January 18th, 2013
Location of The Kingsbury Colombo
The Kingsbury Colombo [formerly Ceylon Continental] is located in the heart of the city called Fort: at the northern end of the Galle Face Green in the immediate backdrop of the Indian Ocean to the west and Hotel Galadari Colombo and Hotel Hilton Colombo immediate to the east. Immediately to the north of Kingsbury Colombo is the Central Bank of Sri Lanka, the banker to the state.

Setting of The Kingsbury Colombo
The Kingsbury Colombo  stands majestically on a strip of land nesting between the Colombo Fort marine drive called Chaithiya Road [Sinhala: Stupa Road] and the Colombo Galle A2 main road [CGHW] that connect to the Janadhipathi Mawata [Sinhala: President's Avenue] [called Queen's Street during the British Colonial times].
Sri Lanka Holidays Sustainable tourism (Green i.e., eco) credentials of The Kingsbury Colombo: to be edited.
Type of hotel & star rating of The Kingsbury Colombo: a five-star luxury hotel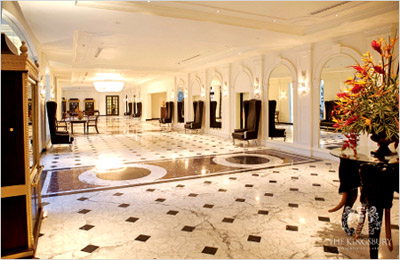 Architecture and Interior Décor of The Kingsbury Colombo
Colonial grandeur blended with luxuries of twenty first century living.
Accommodation at The Kingsbury Colombo
One Presidential suite, 21 suites & 207 luxurious bedrooms (Superior, Deluxe, Premium and Executive Rooms)
The views from the rooms at feature Galle Face Green or the Colombo harbor and Indian Ocean.
The rooms have views of the Galle Face green or the Colombo harbour and the Indian Ocean. The room interiors blends classic charm with contemporary living and are furnished with twin or king-size beds.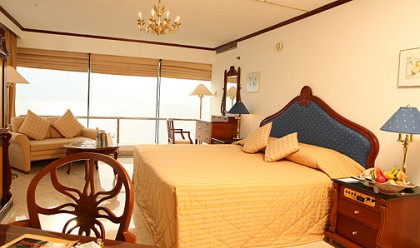 In-room facilities at The Kingsbury Colombo
All rooms of The Kingsbury Colombo are furnished twin or king-size beds
a/c, overhead fans, LCD TV with satellite channels, IDD telephone, tea/coffee facility
wi-fi internet, digital safe, room service and laundry service.
En-suite white marble bathrooms are equipped with hot water and cold water showers.
In house facilities at The Kingsbury Colombo
Ballrooms: The Balmoral, The Victorian and The Winchester.
Other hotel facilities include a swimming pool, fully equipped fitness centre, spa offering relaxing massages and beauty treatments, business centre and banquet facilities.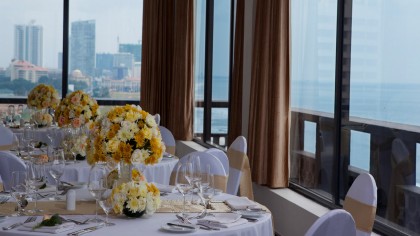 Restaurants and bars at The Kingsbury Colombo
The Ocean (world cuisine: an all day restaurant serving international cuisine for breakfast, lunch and dinner
Yue Chuan (Chinese): serves up Cantonese and Szechuan dishes
Fisherman's Wharf: seafood specialties
The Gourmet Station: specialty teas brewed of Ceylon Tea, the finest Black Tea in the world, chocolates, cakes and pastries.
The King's Pub, the lobby bar: a range of alcoholic beverages.
Excursions within Colombo district
Kaleniya Royal Temple at the city of Kaleniya, located 11km east of Fort, Colombo
Seemamalaka and Gangaramaya temple located 3 km south of Fort, Colombo on the eastern bank of Beira Wewa [Sinhala: Beira Lake]
Bellanwila Raja Maha Vihara [Sinhala: Bellanwila Royal Buddhist temple] at Bellanwila, off Dehiwale, 14km south of Fort, Colombo and 5km east of Sri Lanka Holidays Mount Lavinia.