The Prime Tropical Island of Sri Lanka: the Land of Delights
Sri Lanka Holidays: Total Holiday Experience

Sri Lanka Holidays invites all of you to our ancient tropical island of great natural bounty & ancient glory. The beautiful island of Sri Lanka makes your touring holidays a total holiday experience (THE) with something for everyone during Sri Lanka Tours.
Sri Lanka: nature & adventure, beaches & lagoons, wildlife & elephants, Ayurveda & Buddhism
The Time
Tourist season: October to April if your itinerary includes beaches in the west & south west coast
Off season: Fine, if you aren't bothered of bit of rain here & there while on tour
Monsoon rains: Southwest (June to September) & northeast (October to December)
The most colourful & vibrant pageant in Asia: Kandy Esala Perahera pageant (Full moon July-August)
The night ascent (three hours-7 km): climbing Adam's Peak (that has been climbed for 1000 years - Iban Battuta in 14th century) by moonlight with streams of pilgrims carrying flairs like torches in the night (December - May). Buzz in the night and light & shadow play at the crack of dawn, magnificent view in the morning.

The Climatic division of the island
Despite the small size of the island, the presence of a mountainous core & two monsoons create two sharply defined climatic zones: the larger, dry mainly northern & eastern region, & the smaller wet, south-western region.

The Terrain
Tropical beaches of lowland plains (hot & humid).
Central Highlands from Kandy (500m up, Mediterranean climate) to Nuwara Eliya (1800m up, salubrious climate).
North central dry lands (hot and dry climate), the kingdom of water reservoirs called 'Rajarata' (meaning King's country in Sinhalese) or Wewebadirata (meaning country of rainwater reservoirs in Sinhalese).

The Tropical Beaches
Tropical beaches: Among the finest in the world, Unawatuna Bay Beach (in the top ten beaches of the world), Bentota Bay Beach Resort (prime beach resort in the island), Tangalla Bay Beach, Mirissa Bay Beach, Weligama Bay Beach.

Scuba diving, PADI license, Snorkeling, Water Skiing, Wind Surfing, Sea Kayaking, Fishing, Deep Sea Fishing, Water Sports.

Turtle watching
Sri Lanka is a major nesting site of the marine turtles. Of the seven species of marine turtle in the world, five return to lay their eggs in the natal beaches of the Sri Lanka. Hatcheries are located in the south western coast. All are listed by the World Conservation Union (IUCN) as either threatened or endangered. The most famous beaches for turtles are Rekawa Beach, Induruwa Beach, Koggala Beach & Kosgoda.

UNDP sponsored Turtle conservation
Turtle Conservation Project, 389 Godagama, Kosgoda.

Nature & Adventure
Camping, Cycling, Trekking Canoeing at Belihul Oya.
Trekking, paragliding, canoeing, abseiling, camping & rock climbing at Ella.
Rambling Rain forests, wild life, sanctuaries, safaris, parks at National Parks & Reserves.
Boat safaris in lagoons at Bentota lagoon or at Koggala lagoon.
White water rafting at Kitulgala.
Sri Lanka's Native indigenous Tribe (Veddas) in Dambana, Mahiyangana

Wild Elephants
Classical bio-geographic theory predicts that small islands do not have large animals. Sri Lanka defies that theory too. The largest terrestrial mammal, the elephant, roams the wilderness in Sri Lanka. Sri Lanka boasts of one of the world's largest populations of wild elephants as well as captive elephants in the world.
Uda Walawe National Park, Ruhuna Yala National Park, Wasgomuwa National Park, Minneriya National Park, Kaudulla National Park.

The world's first sanctuary for lost & abandoned elephants
Pinnawela Elephant Orphanage.

Save the Sri Lankan Elephant
Tree Tops Farm, Elephant watch programme, 30/35 Q Willow Terrace, De Silva Cross Road, Kalubowila, Dehiwale, Sri Lanka.

Wildlife
For one small island Sri Lanka packs an enormous variety of wildlife. This is largely because of in that small space there is a wide range in altitude. The Central Highlands rise to over 2,500m with damp evergreen forests, cool uplands & high rainfall. Within 100km there are dry coastal plains & sandy beaches.
Mammals: 86 mammal species. 14 of which are endemic. The pride of place goes to elephant.
Reptiles: large reptiles & 83 species of snakes, five of them poisonous.

National Parks & Reserves of Sri Lanka
13% of the land mass of the island belongs to protected areas ranging from National Parks, Nature reserves & Strict Nature Reserves.

The Frog capital
It is believed that as many as 200 new species of tree frogs are awaiting scientific description. Sri Lanka could surpass countries like Costa Rica in the number of tree frog species, making it the frog capital of the world. This is a result of Sri Lanka being a Waterworld: Ancient Sinhalese irrigation & Modern irrigation Projects of Sri Lanka.

Freshwater fish
Freshwater fish endemism is extremely high as well, with over 140 native species.

The Ornithologist's paradise
Sri Lanka is also an ornithologist's paradise with over 250 resident species, mostly found in the Wet Zone. The winter migrants come from distant Siberia & Western Europe, the reservoirs attracting vast numbers of water birds. Residents & migrants together make up 435 species. Bundala Bird Sanctuary is famous for its migrating flocks of flamingos. Wirawila Wewa (Wirawila rain water reservoir) Bird Sanctuary & Kalametiya Bird Sanctuary with lagoons are located between Tissamaharama & Hambantota in the south. Bellanwila-Attidiya sanctuaries close to Colombo & Kurulu-kele Vegetation in Kegalle are also bird watching areas.

Butterflies
To the naturalist, Sri Lanka offers a tantalizing array of interesting & unique butterfly forms. 244 species of butterflies occur in Sri Lanka, of which 42 are endemic to the island. Their habitats range from the hottest areas in the arid zones to the coolest areas in the forested hills. Most species are closely associated with medicinal plants which are used by the butterfly larvae as sources of food. Some butterflies can be seen all year round while others are seasonal. In size, they range from the large, aptly named Bird-wing butterfly to the tiny, just as aptly named, Grass Jewel. The highest numbers of species of butterflies occur in the foothills up to 3000 feet elevation. About half a dozen species occur above 4000 feet. Twenty species are strictly confined to the dry zone below 500 feet. There are two major seasons in which the butterfly numbers peak. These correspond to the onset of the south-west monsoon in March-April and the north-east monsoon in September-October. The eleven butterfly families found in Sri Lanka are Danaidae, Satyridae, Amathusiidae, Nymphalidae, Acraeidea, Libytheidae, Riodinidae, Lycaenidae, Pieridae, Papilionidae and Hesperiidae

Butterfly migration
A spectacular scene is the seasonal migration during March & April when the fly all the way up to the Samanala Kanda (meaning Butterfly Mountain in Sinhalese) (Adam's Peak)

Waterfalls
Sri Lanka, in comparison to its size, has a large number of waterfalls: the island has been blessed with 400 waterfalls. Three of Sri Lanka's waterfalls are listed among the highest waterfalls in the world ranking 48th, 58th & 62nd. These are Bambarakanda Falls (263 m), Diyaluma Falls (220 m) & Kurundu Oya Falls (206m) respectively. Lakshapana Falls is the main hydroelectricity power supplier to the island. The abundance of waterfalls in the country is attributed to the geology of the island & rocky precipices combined with the quantum of rainfall in the hill country. These waterfalls are in full bloom during the monsoon rain periods of the tropical island.

Sri Lanka: Biological Hot Spot
Western Ghats of south-western India & Sri Lanka is one of the 34 biodiversity hotspots of the world recognized by Conservation International.
Due in part to the varying effect of the yearly monsoons & the high mountain regions, Sri Lanka is home to a rich endemic assemblage of plants, reptiles, & amphibians. Sri Lanka alone may be home to as many as 140 endemic species of amphibians. The island is also home to important populations of Asian elephants, leopards & the endangered lion-tailed macaque. Freshwater fish endemism is extremely high as well, with over 140 native species. Sri Lanka has a rich and exotic variety of wildlife.

Endemism
An interesting feature of the species diversity in the island is its high degree of endemism, which is observed in several taxonomic groups. Still-more interesting is the distribution of the endemics. A large proportion is found in the wet zone in the south western region of the island.

Conservation
In the Sri Lankan portion of the biological hotspot (Western Ghats of India & Sri Lanka), most of the habitat is officially protected by the Forest Department & the Department of Wildlife Conservation (DWLC). The protected area of the island includes national parks, strict nature reserves, jungle corridors & sanctuaries. One of the most important reserves in the hot spot is the Lion King (Sinharaja) Tropical Rain Forest, a World heritage Site. In Sri Lanka, 92 Key Biodiversity Areas have been identified through a process coordinated by the Wildlife Heritage Trust of Sri Lanka & the University of Peradeniya involving a number of experts.

Sri Lanka's projects of conservation are not a product of modern environment awareness: Sri Lanka has a long tradition of conservation rooted in its 2,230 year old Buddhist civilization.

Flora
Twenty three percent of the flowering plants are endemic & most of them are confined to the wet evergreen & wet montane forests of the central & southwest part of the country.

Ecosystem diversity
There is a wide range of ecosystem diversity in the island. The major natural ecosystems of Sri Lanka are coastal & marine ecosystems, Inland wetlands, forests & grasslands. It also includes agricultural eco systems.

Marine ecosystems include sea-grass beds, coral reefs, estuaries & lagoons & mangrove swamps. Forests vary from wet evergreen forests (both lowland & montane), dry mixed evergreen forests to dry thorn forests. Grasslands are found in montane & low country. Inland wetlands include a complex network of rivers & freshwater bodies.

The Tropical Island
Nature & Adventure: Horton plains (grasslands), (WHS), Ritigala, Kitulgala rapids
Main Biosphere reserves: Hurulu (established in 1977), Sinharaha Tropical Rain Forest (WHS) (established in 1978), Kanneliya-Dediyagla-Nakiyadeniya (KDN) (estab. in 2004)
Other Biosphere reserves: Morapitiya, Muturajawela & Kottawa
Wetlands: 103 river basins, Muthurajawela wetlands
Cultivation: Rice, Tea, Rubber, Coconut, Cinnamon & Spices
Botanical gardens: Peradeniya Royal Botanical Gardens (the finest of its kind in Asia), Hakgala Botanical Gardens & Henarathgoda Botanical Gardens

Vegetation
Coconut palms (Cocos nucifer), Kitul or Sago or fish-tail palm (Caryota urens), rain tree (Samanea saman), eucalyptus or gum tree (Eucalyptus grandis), Bamboo (Bambusa), banyan (Ficus benghalensis), peepal (Ficus religiosa)
Golden mohur (Delonix regia), jacaranda (jacaranda mimosaefolia), tamarind (Tamarindus indica), sil cotton tree (Bombax ceiba), Ceylon ironweed (Mesua ferrea), rhododendron (Rhododendron Zeylancium)
Mango (mangifera indica), jackfruit (Artocarpus heterophyllus), bana plant (Musa), papaya (Carica papaya), cashew nut (Anacardium occidentale), avocado pear (Persea)
Frangipani (Plumeria rubra), Bougainvillea, hibiscus, Orchids, Dendrobium macarthiae, Vandal tessellate

Alternative Medicine
Ayurveda Medical treatments in Sri Lanka

Mountains
While most of the island is low-lying & flat, but the south-central part is mountainous & has nine peaks over 2.133m (7,000ft) high.
Pidurutalagala Mountain (2524m)
Kirigalpota Mountain (2395m)
Totapolakanda Mountain (2357m)
Kudahagala Mountain (2320m)
Sri Pada Mountain (Adam's Peak) (2243m)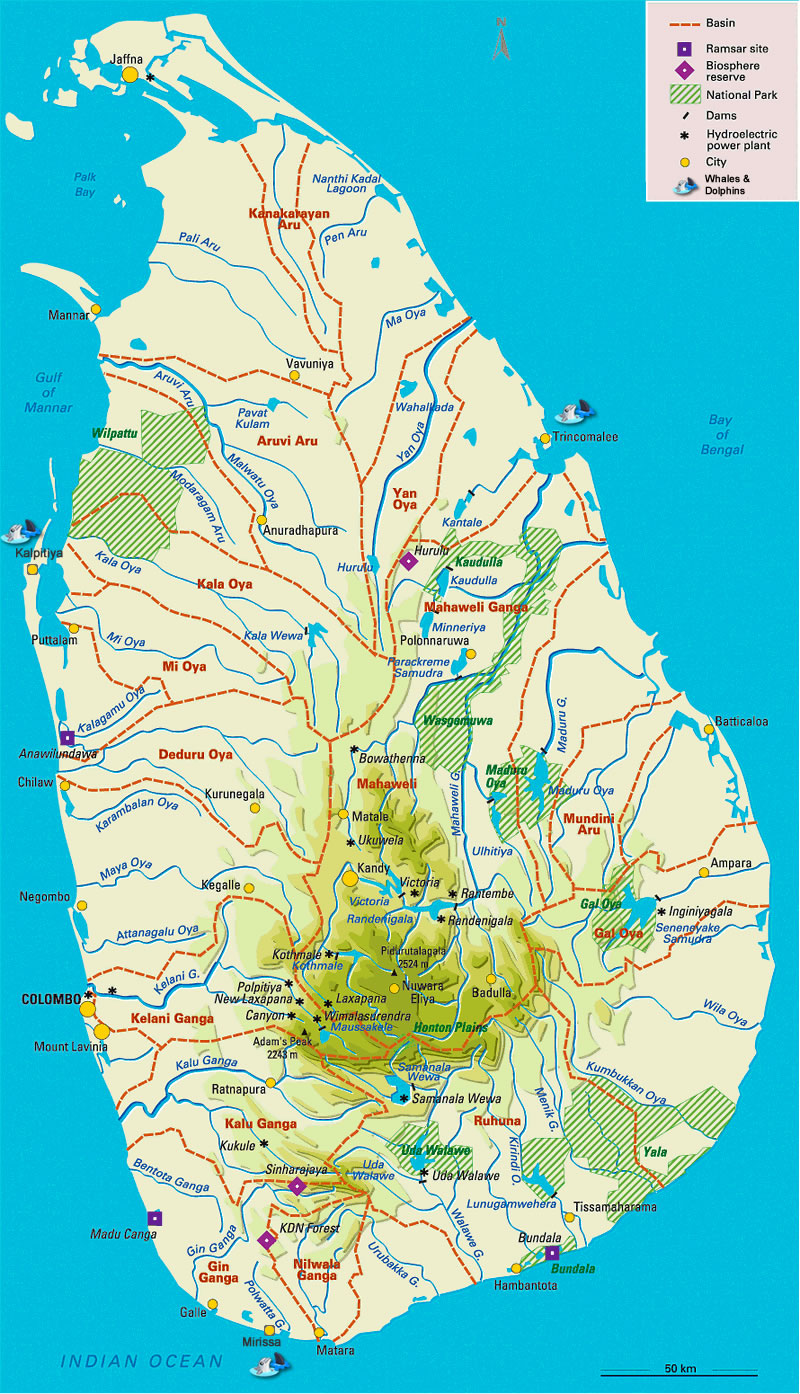 Would that do?
If such diversity & the ease with which it can be done appeals to you, would you drop a line to us? We will take care of all the rest. Contact us today!
Ancient Glory | Nature & Adventure | Rich Package | Sri Lanka Holidays | Total Holiday Experience





click on photo to enlarge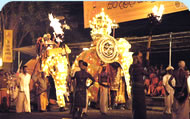 Kandy Esala Perahera Pageant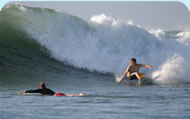 Arugam Bay Surfing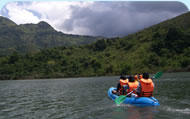 Kayaking at Belihul Oya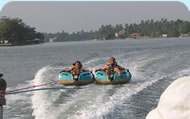 Water sports in Bentota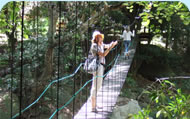 Trekking at Ella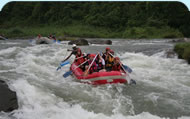 Rafting at Kitulgala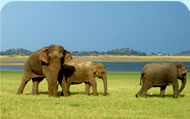 Wildlife at National Parks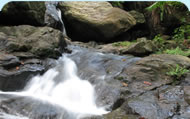 Waterfall All Around