Sunday, February 28th, 2010
Rent a Beach Villa: Palm Beach Villa, Talpitiya, Wadduwa, Sri Lanka
Palm Beach Villa as its name suggests is a luxury villa by the beach among the coconut palm groves in the tropical island of Sri Lanka, the Land of Delights.
Location: Talpitiya, Wadduwa is in the Western coastal belt of Sri Lanka. The Western coastal belt & Southern coastal belt of Sri Lanka is replete with palm fringed magnificent bay beaches from Wadduwa onwards to Ambalantota.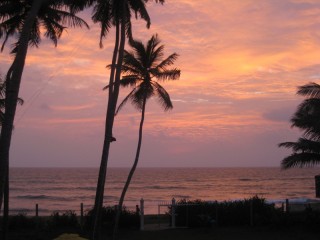 Dusk at Palm Beach Villa, Sri Lanka
Setting: Beachfront. The handsome villa painted immaculately in white is set with a beachfront amidst coconut groves. The panoramic view of the beach, swimming and surfing is complemented by the shady and sheltered garden populated by an array of tropical birds such as parrots, herons and myna.
Living: The Villa spanning about 800 Sq. meters is set up with spacious sitting and dinning areas immersed in the tropical splendors to host 8 guests in all luxury. English speaking housekeeper, butler/driver and night-time caretaker are at your call and beck at all times.The villa on the beach offers a great view of the sea, safe swimming and walks on the golden sand. The next door garden restaurant is open for the guests.
Aquarium. Sit tight and enjoy the little joy of seeing numerous multi-colored aquarium fish floating, swimming around in 6000 liter state of the art aquarium. Soothe your mind.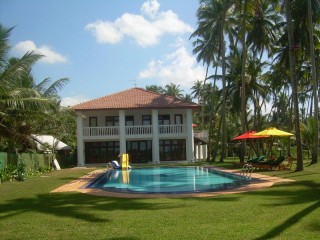 Palm Beach Villa, Wadduwa
Dining: The elegantly appointed dinning room is designed for a group of twelve. The solid Mahogany dining table is invariably served with high quality china and gleaming silverware by the cohesive team at Palm Beach Villa.
Sleeping: Luxury suite, Large family room and Smaller room
Luxury suite: King Bed, sleeps 2 – The Master bedroom consists of a mahogany four poster king size bed. The private balcony overlooks the swimming pool and the sea. The roomy en suite bath features a 2 person whirlpool, granite shower and double sinks.
Large family room: 2 Queen Beds, sleeps 4 – The second bedroom contains two queen size beds and a fully equipped with en suite bathroom.
Smaller room: 2 single beds, sleeps 2 – The third bedroom located downstairs too consists with its own bathroom.
All the beds are furnished with luxurious euro top mattresses. Bed linen and towels are spun from the finest quality Indian cotton. The ground level of the villa is entirely wheelchair accessible.
Living Room consists of a TV lounge furnished with a 42? LCD TV (Satellite telecast). The guests are provided with complimentary wireless internet and free use of a laptop.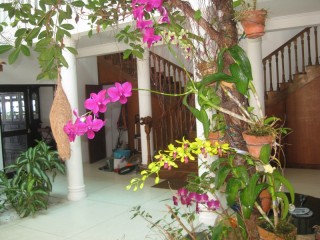 Palm Beach Villa, Sri Lanka
Pantry is fully equipped with a cooking range, an oven, a microwave, an ice maker, a dish washer, an automatic heavy duty washing machine, a cloth dryer and stainless steel kitchenware.
Swimming pool is 20 meter long with Jacuzzi and chlorine free (salt water system.) Depth is 1.25 M.
Sports and facilities include electric golf cart for use in the garden, a basketball net, badminton and beach volleyball nets, bicycles and a car.
Address: Palm Beach Villa, Talpitiya, Wadduwa, Sri Lanka. http://www.palmbeachvilla. lk/
Contact Email: info@palmbeachvilla.lk
Mr. Ranil Nanayakkara Mobile: Fax: +1 709 722 1273 Email: ranil@nl.rogers.com
Mr. Raja Nanayakkara Mobile: Email: rlsnanayakkara@gmail.com
Rent Palm Beach Villa. Villa Rates begins at US$ 285.00 per night for entire Palm Beach Villa, Talpitiya, Wadduwa.