Thursday, May 23rd, 2013
Cranford Villa location
Cranford Villa is located in scenic Diyatalawe [157km from Colombo; altitude: 1500 meters above sea-level] of salubrious climate encompassed within Sri Lanka Health Triangle of the Central Highlands of Sri Lanka. Diyatalawa, the military canton town of the Central Highlands is also in the zone where Ceylon Tea of Sri Lanka, the finest Black Tea is produced.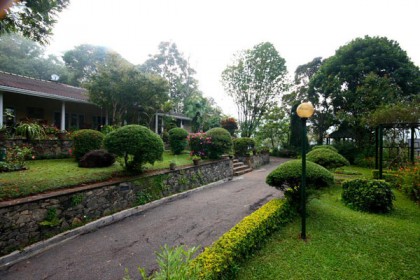 Reaching Cranford Villa
Reaching Cranford Villa in Diyatalawa can be reached from Colombo by Sri Lanka's Highland Railway line [ Diesel Electric Locomotive Engines] as well as by motor road.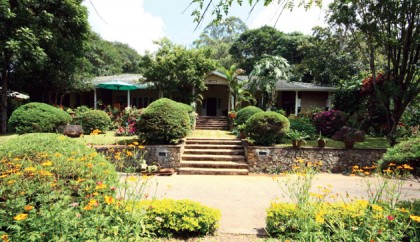 Setting of Cranford Villa
Cranford Villa is set amidst the misty mountains and tea plantations.
Sustainable tourism (Green i.e., eco) credentials of Cranford Villa: to be edited.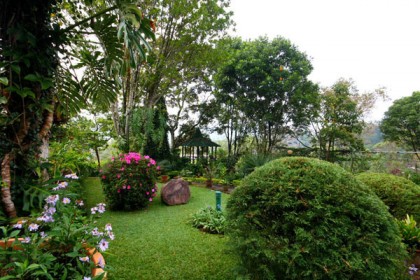 Architecture & Interior deco of Cranford Villa
The renovated building retains its British colonial architectural beauty intact beginning with the very entrance that features a flight of stone steps, leading to a wide colonial-style spacious veranda facing the garden, to all sections, not to forget the quaint fire-place.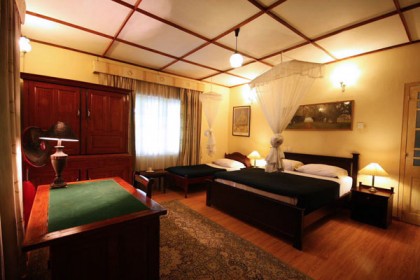 Type of the Hotel & Star rating of Cranford Villa: a renovated and refurbished British colonial bungalow.
Accommodation at Cranford Villa
Cranford Villa consists of five newly refurbished bedrooms with en-suite bathrooms. The two deluxe rooms feature their own televisions set up with local and international channels.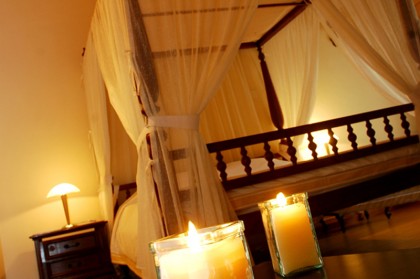 Facilities at Cranford Villa
Dining
Cranford Villa takes pleasure in arranging barbecue, outdoor breakfast and Candle-lit dinner in the landscaped garden or in the summer house. Meals, prepared of fresh vegetables grown in the Cranford Villa's garden, are served at timings suited to the guests.
Health
Hot water Jacuzzi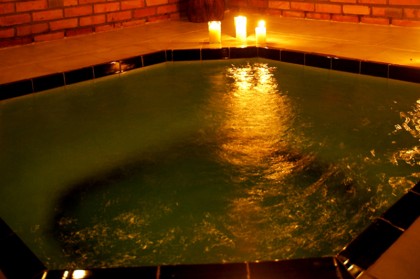 Leisure at Cranford Villa
Stroll in the extensive garden of Cranford Villa
Outdoor games of basketball or badminton.
Indoor games of carom & darts
Extensive DVD library of Cranford Villa
Excursions off Cranford Villa
The central location of Diyatalawe makes it easier to visit most of the surrounding Sri Lanka Holidays attractions
Horton Plains National Park [a UNESCO World Heritage Site]
Lipton's seat [a vantage point in a tea estate where Thomas Lipton used enjoy the surrounding views in the mornings] in Sri Lanka Holidays Haputale
The magnificent opening amidst the mountain ranges called Ella Gap in the paradise village of Ella
Ravana Ella & Diyaluma Ella waterfalls
Dambatenna Tea Factory
Demodara railway loop
16th century Bogoda Wooden Bridge