Friday, September 7th, 2012
Langdale by Amaya, Nuwara Eliya
Location of Langdale by Amaya
Langdale by Amaya Hotel is located in Nuwara Eliya, the prime hill country sanatorium of the Central Highlands of Sri Lanka.
Nuwara Eliya of salubrious climate (Spring like wholesome climate at an altitude of 1800 meters above sea-level) is located at 180 km away from Colombo.
Reaching Langdale by Amaya at Nuwara Eliya
By motor roads: Nuwara Eliya of Central Highlands is regularly reached by first taking A1 main road (Kandy Road) and then by A5 main road. The alternative route from Colombo is A4 main road first then by A7 road via Avissawella and Kitulgala (a Sri Lanka Holidays attraction famous for Whitewater Rafting) too.
By Railway: though Nuwara Eliya has no railway station in operation, Nanu Oya, the closest railway station is located at of distance of 5km only by motorable road.
By Air: Sri Lankan Airlines Air taxi- though no regular operations are scheduled , sea-planes that departs Colombo lands on Gregory's Lake close to the city center of Nuwara Eliya within one hour; helicopters of Helitours owned and operated by Sri Lanka Air Force (SLAF) can be chartered.
Proposed railway track from Nanu Oya to Nuwara Eliya
On 31st July 2012, President Mahinda Rajapaksa instructed the Minister of Transport Kumara Welgama to begin construction work of the railway track from Nanu-Oya to Ragala, Nuwara Eliya along the route of narrow gauge (2 feet 6 inches) (little train) that was abandoned in the year 1951. The narrow gauge 26km long railway track would suit the sharp curves and bends in the rugged mountainous terrain and would bring the magnificent landscape closer to the beholder. However the proposed railway track is still in its conceptual stage.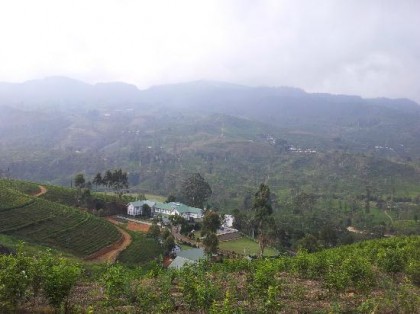 Setting of Langdale by Amaya, Nuwara Eliya
Langdale by Amaya, a small 13-room luxury boutique hotel is set upon the sprawling Somerset Tea Estate in the village of Radalla situated 10km interior of the town of Nuwara Eliya. Surrounding Langdale by Amaya are lush yet well manicured tea plantations, meadows and greenery interspersed by waterfalls and well preserved colonial villas of the British Ceylon (1815-1948).

Architecture and interior décor of Langdale by Amaya
Langdale by Amaya is a century old colonial manor house that has been renovated and refurbished while still retaining the old world charm. Blending smoothly in to the old manor house is a new wing. The colonial style of the manor house is enhanced with green roof and picket fencing. Langdale by Amaya is well illuminated by the natural light and warmed by the old fireplaces. Langdale by Amaya is airy yet cosy, a virtue that owes much to the antique style furniture, hardwood floors.
Sri Lanka Holidays Sustainable tourism (Green i.e., eco) credentials of Langdale by Amaya : to be edited.
Langdale by Amaya Star Rating: 4 star
Accomodation at Langdale by Amaya, Nuwara Eliya
Langdale by Amaya offers 13 ensuite bedrooms in three categories to Sri Lanka Holidays tourists: Superior, Luxury, and Deluxe categories.
Luxury Rooms: the four spacious Luxury Rooms set up on the second floor bring in grand views of surrounding Ceylon Tea plantations. The rooms consist of a living area, en-suite bathroom with Jacuzzi.
Deluxe Rooms: of the five Deluxe rooms with mountain views, one deluxe room is a triple, furnished with three single beds that suits well for children. En-suite bathroom is equipped with hot water shower.
Superior Rooms: superior Rooms, smaller in size than Luxury and Deluxe rooms, are located on the ground floor bringing in views of the hotel garden.
In room facilities at Langdale by Amaya, Nuwara Eliya
In-room facilities include electric heaters, 30 inch LCD TV with satellite channels, wi-fi internet, tea/coffee facility, room service and laundry service.
In house facilities at Langdale by Amaya, Nuwara Eliya
Main restaurant of Langdale by Amaya serves lunch and dinner- Sri Lankan and international cuisine-prepared of garden fresh Sri Lanka Holidays Central Highlands vegetables.
The bar equipped with a snooker table and satellite TV serves an array of alcoholic beverages too.
Set up in lovely surroundings is the temperature controlled swimming pool.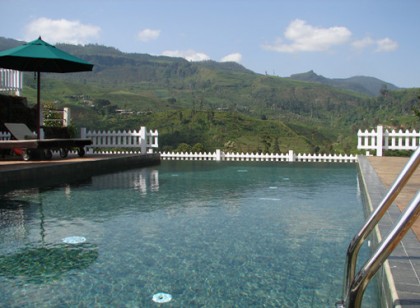 Lightweight activities at Langdale by Amaya, Nuwara Eliya
Enjoy a stroll in the surroundings and visiting nearby Tea Center to enjoy a bowl of Nuwara Eliya grown garden fresh strawberries with cream and a cup of Nuwara Eliya High Grown Ceylon Tea, the finest Black Tea in the world.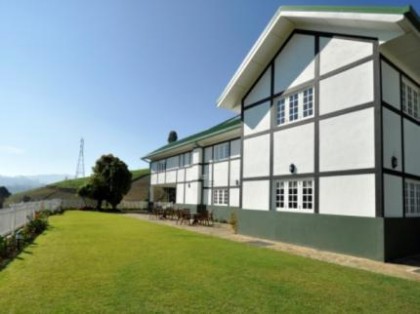 Excursion off Langdale by Amaya, Nuwara Eliya
Langdale takes pleasure in arranging guided tours in the surroundings. A tour to a Ceylon Tea estate and factory is an opportunity to eye witness the process of Black Tea production of Sri Lanka.
A walk to the town of  Nuwara Eliya along the roads sheltered by tall pines bring into view heritage mansions of British Ceylon, cottages, tea estates, home gardens of European vegetables, orchards of upcountry fruits, flower plots that are the regular features of the district.
The highlight of  Sri Lanka Holidays in Nuwara Eliya is trekking through the UNESCO World Heritage Site of  Sri Lanka Holidays Horton Plains National Park rich with birdlife and home to free roaming deer to reach the escarpment that drops nearly a kilometer straight down: World's End.