Jetwing Beach Negombo
Jetwing Beach Negombo Hotel location
Jetwing Beach Negombo Hotel is located in the beach of Ethukala on the outskirts of the western coast town of Negombo at a distance of 12 km [20 mintues by motor raod] from CMB Colombo Bandaranaike International Airport at Katunayake, Negombo.
170 meters south of Jetwing Beach Negombo Hotel, on the same road, i.e. Portutota Road is its sister hotel Jetwing Blue. Further 580 south, also on Portutota Road is its other sister hotel Jetwing Ayurveda Pavilions.
The nearest railway station is at the village of Kattuwa.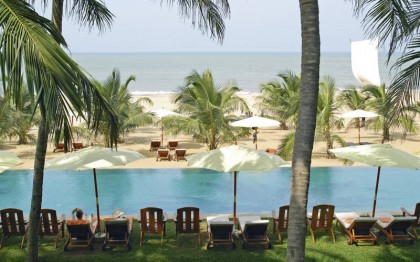 Setting of Jetwing Beach Negombo
Jetwing Beach Negombo hotel is beachfront hotel that sits prettily on the sandy beach of the village Ethukala lined by groves of coconut palm trees.
Sri Lanka Holidays Sustainable tourism (Green i.e., eco) credentials of Jetwing Beach Negombo hotel: to be edited.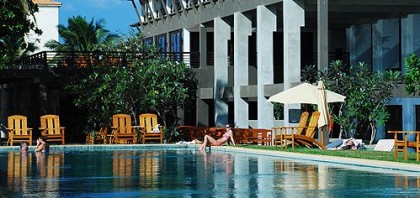 Architecture & Interior deco of Jetwing Beach Negombo Hotel
Jetwing Beach Negombo is built in the architectural concepts developed by Sri Lanka's most renowned architect, Geoffrey Bawa. Jetwing Beach Negombo brings in a combination of rich dark furniture and soft colors.
Type of the Hotel and Star rating of Jetwing Beach Negombo Hotel: 4 star; beach hotel.
Jetwing Beach Negombo is a member of the prestigious small Luxury Hotels of the World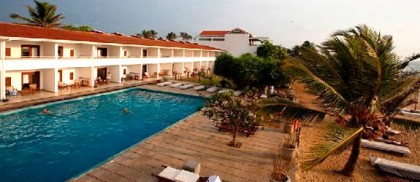 Accommodation at Jetwing Beach Negombo
Jetwing Beach Negombo consists of 75 spacious rooms made comfortable with furniture made of tropical hardwood teak. Every room features a broad balcony that brings in views of the Indian ocean to the west.
Deluxe rooms
Deluxe rooms are equipped with individual air conditioning, telephone and IDD facility, mini bar, tea & coffee making facilities, safety locker, cable television, CD DVD player, hair dryer, & magnifying shaving mirror,
Suits
The three 3 luxury suites with a large open courtyard, an open rain shower and a Jacuzzi are supplemented with butler service.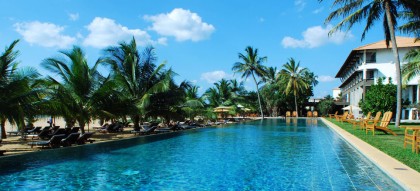 Facilities at Jetwing Beach Negombo
Spa: The spa has two Single Treatment rooms
Thai & Shiatsu Room equipped with a Jacuzzi
Rama / Sitha Room equipped with a Jacuzzi, and a steam room
Dining: two restaurants & two bars
Black Coral that serves delicious à la carte specialities.
The Sands Restaurant
Bars: two bars within and one at the adjoining Jetwing property
On the beach
Within the Sands restaurant
The bar at the Jetwing Blue
Facilities for Meetings and Business at Jetwing Beach Negombo
Centrally air-conditioned meeting room with podium is well equipped with PA system, wall mounted speakers, multimedia, overhead projector with screen, white Boards, flip charts, TV, recording facilities, DVD / CD player
Dedicated operator in attendance during the proceedings.
Excursions off Jetwing Beach Negombo
Angurukaramulla Temple at Negombo
Kelaniya Royal Temple in the city of Kelaniya located 37 km south of Jetwing Beach Negombo
Venture off to Negombo and explore the fishing villages.
A fishing ride on a catamaran with the local fishermen.
Churches in Negombo and surrounding built during the eras of Dutch and Portuguese colonialists.
Boat ride in Muthurajawela marshes, a Sri Lanka Holidays bird sanctuary and Negombo lagoon.

Tags: Beach Hotels, JETWING, Negombo, Sri Lanka Holidays