Sunday, February 13th, 2011
Elephant Corridor Hotel, Sigiriya, Sri Lanka
Location
Elephant Corridor Hotel is located just 4 km away from the famous UNESCO World Heritage Site of Sigiriya Lion Rock Citadel of Sri Lanka in a hamlet called Kimbissa. Golden Dambulla Rock Cave Temple, another UNESCO World Heritage Site is 20 minutes drive away from Elephant Corridor Hotel.
Arrival arrangements to Elephant Corridor Luxury Boutique Hotel
Airport pick-up by a luxury car can be scheduled with the hotel or its agents.
The tourists arriving at CMB Colombo Bandranayake International Airport enjoy the option of directly traveling to Elephant Corridor Hotel by helicopter. hotel is equipped with a helipad. Helicopter bookings from CMB Colombo Bandaranyakae Int'l Airport to private heliport at boutique can be arranged.
Motor vehicles aren't allowed into the boutique. The parking lot being located quite a distance away from the hotel, so that the tranquility of the hotel environment wouldn't be disturbed, the guests are driven in a golf cart to the vast open reception area.
Wild Elephants at Elephant Corridor Hotel
None. The resident elephant is of course, a tamed one. It is unlikely to sight the elephants at the hotel in spite of its lovely name: Elephant Corridor. But then large herds of elephants can be seen in the one-day excursions to Sri Lanka Holidays Minneriya National Park and nearby Kaudulla National Park.
Setting
Elephant Corridor Hotel is scenically located between Minneriya National Park and Sigiriya. Elephant Corridor Hotel sitting pretty in 200 acres of scrubland that is open to all wild beings encapsulates everything surrounding it: nature and wildlife.. The hotel layout and design takes full advantage of the extensive land that is available and is almost a small village of its own.
The concept of the hotel is ultimate seclusion blended with unbridled luxury in sheer wilderness. The well maintained 200 acres of sprawling unfenced wilderness gardens of Elephant Corridor hotel are haven for the visitors from the wild: buffaloes, monkeys, frogs, bats, crawling monitors, butterflies and lovely peacocks and numerous birds.
The villas and the recreational facilities at Elephant Corridor Hotel are well spread out making the invaluable advantage of the extensive land setting up pathways populated with bird and butterflies and bordered by the wilderness. Though all the facilities are located in the easy walking distances, for the benefit of those who would like to avoid walking, bicycles or electro cars are provided.
Elephant corridor Sri Lanka Holidays Sustainable tourism (Green i.e., eco) credentials
The grand project of Elephant Corridor Hotel designed by legendary architect Anton Jacob is the first luxury boutique hotel in Sri Lanka in March 2003. According to the owners of the hotel, not a single tree was felled during the construction of the villas and other structures. Definitely that's a distinctly commendable achievement. The rooms are built in such a way to retain the natural surroundings to the furthest possible extent, enforces environmentally friendly practices to the best of its concept.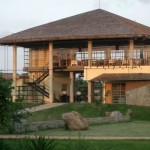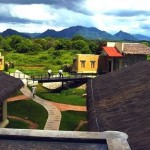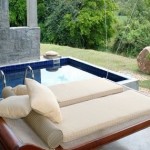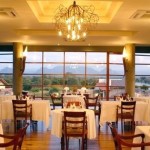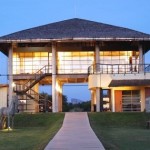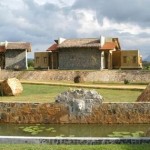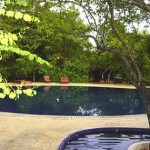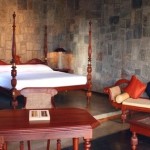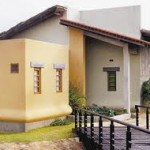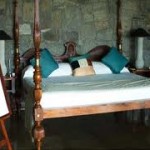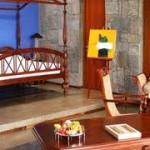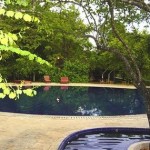 Architecture and interior deco
Elephant Corridor Hotel's accommodation consists of well furnished 20 spacious villa like suits that afford panoramic views of wilderness, lake and the mountains beyond. The suits are set up with private terraces within secluded private garden of its own. On the terrace of each suite is a plunge pool that affords the guests absolute privacy.
Elephant Corridor luxury boutique hotel has been into the sheer luxury in utter wilderness. Each suit is built with hand carved granite walls, well polished concrete, Teak ceilings and Italian tiles. German fittings and Egyptian cotton compliment each and every suit.
Accommodation
Elephant Corridor Hotel's accommodation consists of well furnished 20 spacious suits richly furnished with furniture produced in Sri Lanka: Four-poster beds, couches and recliners
Other facilities: a large TV with DVD player and satellite access, hi-fi stereo system, cordless phone, extensive liquor cabinet and mini-wine cellar, an in-room safe for your possessions
Bath rooms: the en-suite bathrooms have a bath tub, a multi-jet shower and a separate toilet. Also available are kimonos and slippers.
Private terraces and private plunge pools afford the guests absolute privacy.
Deluxe suites: the deluxe suites are equipped with all of the facilities and amenities listed above.
Super Deluxe suites: more spacious than Deluxe suits and fitted with twin vanities in the en-suite bathrooms.
Romantic suites: set up with indoor plunge pool within the suite itself. Fixed onto the canopy of the bed is a mirror. A couple of TV sets within the suite round up the conveniences.
Royal suites: the much larger outdoor plunge pool, a separate dressing room within still more space than the above suites.
Presidential Villa: with no less than four bedrooms, two dining and sitting rooms complete with an eight-seater dining table; two large plunge pools with a bridge connecting the rooms, the luxurious Presidential Villa is designed for families traveling together:
Facilities at Elephant Corridor Hotel
In-house facilities
The all suits luxury hotel avail all 5 star amenities and facilities to its guests.
Communication and business facilities
Wireless Internet access is available throughout the hotel
IDD accessible cordless phone
Conference room and business center are located in the central area.
Dining Facilities
Ambrosia restaurant
Bringing in stunning panoramic views surrounding plains and ancient Sigiriya Lion Rock Citadel City is Elephant Corridor Hotel's "Ambrosia" restaurant to serve an extensive menu: Sri Lankan, Eastern, Western and Fusion cuisine, à la Carte and set menus.
Fables & Tales bar
Fables & Tales bar equipped with library and pool table, serves drinks and snacks. In addition to the Fables & Tales Bar is the Jungle Bar by the swimming pool.
Leisure and wellness facilities
The large circular swimming pool, located away from the central area is luxurious. The lovely grounds that make way for walks is a trail of butterflies and birds.
Also available is a small fitness room with steam bath and sauna.
Spa treatments at "Om" Wellness Spa
The Ayurvedic and Wellness Spa called Om Wellness Spa is open from 9 am to 6 pm daily.
The spa menu includes several Ayurveda and aromatherapy relaxation therapies using herbal oils.
Om Wellness Spa is located amidst the sheer wilderness: birds never end their chirp; rustling leaves ruffled by the breeze are eternally restless while you experience absolute relaxation with your outdoor herbal bath or body massage.
The fragrant oils used in the spa are extracted from flowers, plants, roots or seed of Sri Lanka associated with Ayurvedic treatments. The guests are free to choose timings for aromatherapy body massage for their specific needs; with an array of packages for aches, stimulation, stress relief and detoxification.
The spa is an inspiration: it can set a reinvigorating tone for your emotions and heal your body. There is a range of spas to choose from at your own sweet will. Guests may even choose their own oils to be massaged with. Here is the opportunity in treat yourself with refreshing and rejuvenating therapies including Bali Coffee Scrub, Aloe and Lavender Body Wrap that would exfoliate, moisturize and soothe your body.
Treatment Packages: Aromatherapy Body Massage; Aromatherapy Body Scrub and Bath; Aromatherapy Facial; Aromatherapy Manicure & Pedicure; Tropical Body Polish; Cocooning Body Wrap; Natural Facial; Asian Massage; Ayurvedic Omness; Om Potpourri.
Sports facilities
Gym, cricket net, archery range and swimming pool
In-room facilities
Room service
Elephant Corridor Hotel do not hinder the freedom of its guests with set timings for breakfast, lunch or dinner. The flexibilities in dining options at Elephant Corridor Luxury hotel is personalized to the greatest extent.
You are encouraged to dine wherever and whenever you wish: dine in your own private suite, private garden, under a tree or the stars – wherever and whenever you wish. Also arranged are private BBQs or Breakfast in Bed.
An artist easel with painting materials and binoculars too are provided.
Wildlife and Nature specials
The friendly resident elephant is at your service to take you on a ride in the area surrounding Elephant Corridor Hotel.
The luxury boutique hotel also offers elephant care classes for nature lovers.
Excursions to the surrounding area
Numerous nature trails within the gardens of Elephant Corridor Hotel and surroundings afford the opportunities for exploration accompanied by the resident naturalist at the hotel.
Among the set excursions are elephant back riding, bird watching and horse riding. Bicycles too available for those who would like to explore the surroundings by themselves.
One-day Excursions
Elephant Corridor Hotel is ideally situated to make excursions to all surrounding tourist attractions, cultural as well as wildlife in the making the best of time and motion economy. While those interested in cultural sites find the UNESCO World Heritage Sites of Sigiriya Lion Rock Citadel City and Golden Dambulla Rock Cave Temple and Aluvihare temple at Matale and Kalawewa ancient rainwater reservoir, within easy reach, the wildlife enthusiasts and nature lovers could immerse themselves in bird watching, nature walks, elephant rides and some adventurous tours to the local Minneriya, Kaudulla National Park, the Ritigala Mountain wildlife reserve and ancient monastery, Pidurangala Rock Cave Temple, National Namal Uyana Park, and Pinnawela Elephant Orphanage.


Alternative option to Elephant Corridor Hotel in accommodation: Jetwing Vil Uyana, Sigiriya.