Sunday, January 18th, 2009
Sigiriya Village, Sigiriya Lion Rock Citadel, Sri Lanka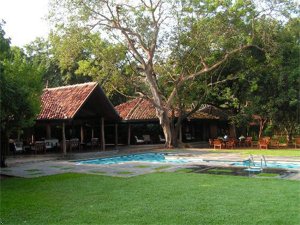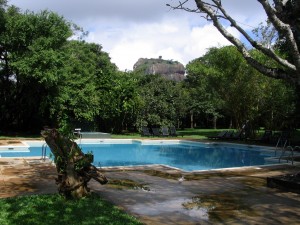 Sustainable tourism (Green i.e., eco) credentials of the hotel.
The restaurant of Sri Lanka Holidays Sigiriya Village offers organic & local food: all meals are prepared using fresh produce directly from the hotel's extensive organic farm. SigiriyaVillage takes pride in offering guests their own home grown fruit and vegetables.
All the herbal oils, scrubs, and wraps used at the on-site Ayurvedic  Centre for the therapies are prepared using herbs from the hotel's own garden. Do not miss the opportunity to experience the indigenous, ancient healing wisdom of Ayurveda, which provides the most natural methods of relaxing one's body and mind.
Location: Sri  Lanka Holidays Sigiriya Village is located 169 km from Colombo & 165 km from Bandaranaike International Airport (CMB), Katunayake Airport, the hotel is close to the Lion Rock Citadel Sigiriya.
Setting:   "back to the nature style". With a view of Lion Rock Citadel Sigiriya, Sri Lanka Holidays Sigiriya village is comprised of small duplexes designed to blend it with their natural environment. The earth-toned cottages in clusters set in parkland so even during the high season, the gardens retain the serene atmosphere, mingle into the environment. Ideally, you too may avoid bright colours & wear cloths of matching colours & blend into the environment. Now, that cannot get any better.
Accommodation: 120 individually designed earth-toned cottages of Sri  Lanka Holidays Sigiriya Village brings in enchanting rural atmosphere, each with a bedroom, en-suite bathroom, and private verandah overlooking carefully nurtured gardens & ponds, are decorated carefully with themes symbolic of rustic life.
Facilities: Recreational facilities at Sri Lanka Holidays Sigiriya Village include a swimming pool with separate children's pool The hotel further offers guests mini-golf, badminton, tennis and board games on the premises. Mini golf – Badminton – Tennis – Jogging track
Meals are served at the main dining area overlooking the swimming pool and the magnificent Lion Rock citadel Sigiriya which looms over the treetops. Traditional Sri Lanka rice and curry is a speciality here. Buffets – with Western and Eastern food — are served for breakfast and lunch. There is also an a la carte menu and room service menu.
Leisure: Bird-watching, Elephant ride & ttraditional dance and music troupes provide nightly entertainment within the main restaurant area.
Excursions: Lion Rock citadel Sigiriya (UNESCO World Heritage Site) (You are right there); Golden Dambulla Rock temple (UNESCO World Heritage Site) (round trip 48 km); Anuradhapura, (UNESCO World Heritage Site) (round trip 164 km); Polonnaruwa (UNESCO World Heritage Site) (round trip 134 km).