Jetwing Blue Negombo
Jetwing Blue Negombo location
Jetwing Beach Negombo [ formerly Blue Oceanic ] is located is just 3km from the Negombo city centre in the beach of Ethukala, Negombo. Jetwing Beach Negombo is12 km [20 minutes by motor road] from CMB Colombo Bandaranaike International Airport at Katunayake, Negombo. The city of Colombo is 39km [80 minutes] to the south.
Jetwing Blue Negombo's sister hotels, i.e. Jetwing Beach Negombo and Jetwing Ayurveda Pavilions too are located withing the walking distance on the same road called Porutota.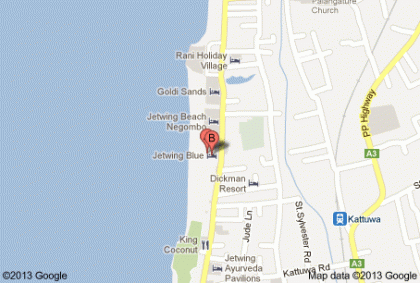 Setting of Jetwing Blue Negombo
Jetwing Beach Negombo is beachfront hotel with an extensive beach frontage in Negombo.
Sri Lanka Holidays Sustainable tourism (Green i.e., eco) credentials of Jetwing Blue Negombo: to be edited.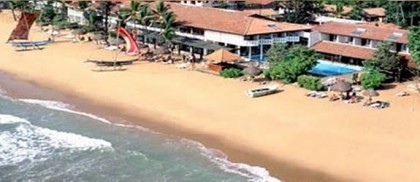 Architecture & Interior deco of Jetwing Blue Negombo
Jetwing Blue Negombo is built in the architectural concepts developed by Sri Lanka's most renowned architect, Geoffrey Bawa. Jetwing Blue Negombo brings in a combination of rich dark furniture and soft colors.
Type of the Hotel and Star rating of Jetwing Blue Negombo: 5 star; beach hotel.
Jetwing Blue Negombo is a member of the prestigious small Luxury Hotels of the World.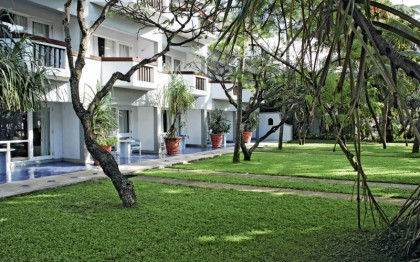 Accommodation at Jetwing Blue Negombo
Jetwing Blue Negombo consists of 112 spacious bedrooms including 82 Deluxe Rooms, 21 Super Deluxe Rooms and 3 family rooms and 6 suites. All rooms have its own private balcony that affords grand views of the beach and ocean.
In-room facilities include a/c, overhead fan, plasma TV with satellite channels, DVD player, IDD telephone, mini-bar, tea/coffee facility, room safe. Ensuite bathrooms have bathtubs and h/w showers.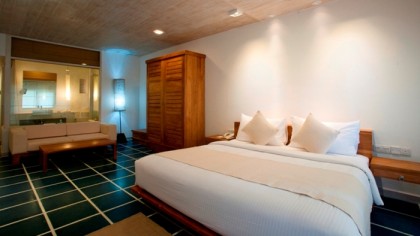 Facilities at Jetwing Blue Negombo
Dining
The Kitchen
As the name suggests, The Kitchen is a Show Kitchen. It is the Main Restaurant and offers a la carte menus and an American Breakfast buffet. The Kitchen features a health corner.
Jetwing Blue Negombo also affords you all its signature dining: In room, Beach BBQ, the Terrace for al fresco star lit dinners or a romantic spa dinner.
Centre Point Grill & Bar
Herein you all are served light meals with succulent snacks and the beverages to keep you up in good spirits throughout the day.
The Float
Fine wines, great spirits and heady mixes of cocktails are served at anytime night or day.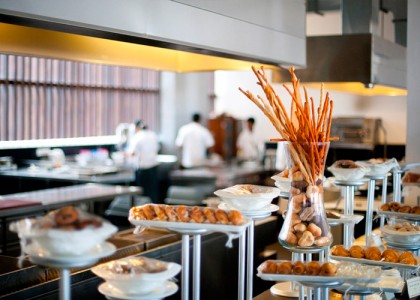 Leisure at Jetwing Blue Negombo
Swimming Pools
Jetwing Blue has two swimming pools with one having lounge chairs immersed right in the water to keep your feet cool on a hot tropical day.
Spa
There is also a spa offering rejuvenating massages.
For extensive Ayurvedic wellness as well as yoga, guests are welcome to use the facilities at the hotel's sister property, Ayurveda Pavilions located 600 meters south of Jetwing Blue Negombo
Others
Gym, squash courts and a banquet hall.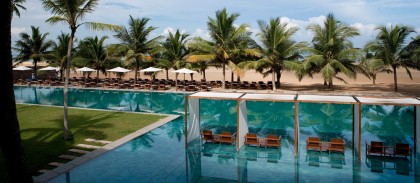 Excursions off Jetwing Blue Negombo
Boat ride into  Muthurajawela marshes Sri Lanka Holidays bird sanctuary [23km south of Jetwing Blue Negombo], home to numerous species of birds and fish, dragon flies and monitor lizards.
Visiting Portuguese period Catholic Churches, ruins of the Dutch Fort and cemetery.

Tags: Beach Hotels, Negombo, Sri Lanka Holidays, Sri Lanka Hotels