Monday, September 24th, 2012
Location of Viventa by Taj-Bentota
Viventa by Taj-Bentota (formerly Taj Exotica) is located at the National Holiday Resort in Bentota, the foremost beach holiday resort in Sri Lanka. Bentota, 64km south of Colombo can be reached within two and a half drive from Colombo, the capital city of Sri Lanka. Bentota is the beach immediately next to the pristine bay beach at Beruwela, 56 km from Colombo that signal the beginning of a 130 Km-long stretch of golden beaches of Sri Lanka Holidays south-western and southern coastal belts.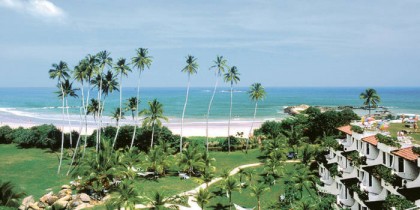 Setting of Viventa by Taj-Bentota
Viventa by Taj-Bentota of extensive landscaped gardens is built upon a rocky head land that brings about panoramic views of the long stretch of Bentota beach contained within Bentota National Holiday Resort. National Holiday Resort in Bentota, a strip of land sandwiched between the beach and railway line to the west and Galle Road (A2 main motorway to the east) is a self contained beach resort: Bentota Beach Hotel, Serendib Hotel, Surf Bentota Hotel, Viventa by Taj, post office, shopping arcade, a cafeteria, open-air theatre where folk and mask dancing performances are staged regularly.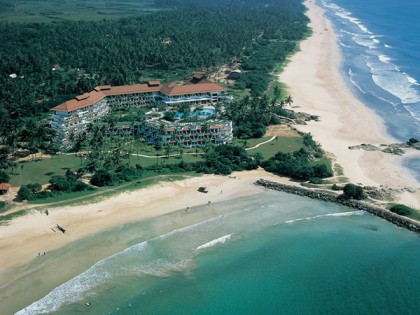 Sri Lanka Holidays Sustainable tourism (Green i.e., eco) credentials of Viventa by Taj- Bentota: To be edited
Type of hotel & star rating
Viventa by Taj-Bentota is a 5 star luxury hotel that offers luxurious facilities. Refurbished in the year 2012, the beach hotel is owned and managed by Taj Group of India.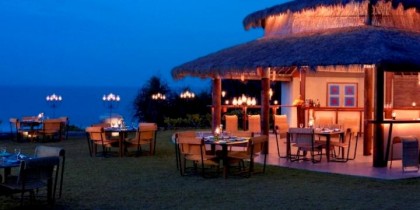 Architecture and Interior Décor of Viventa by Taj-Bentota
Viventa by Taj is built in the colonial architectural style of Sri Lanka. Interior of the hotel with high ceilings and wooden pillars are well furnished.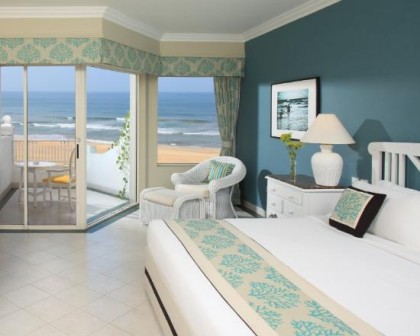 Accomodation at Viventa by Taj-Bentota
Viventa of Taj consists of 162 air-conditioned rooms. All three types of rooms, i.e. Standard, Deluxe and Superior Rooms have en-suite bathrooms with hot and cold water showers and hairdryers. The Deluxe and Superior Sea View Rooms set up with lounge area are more spacious than the standard rooms.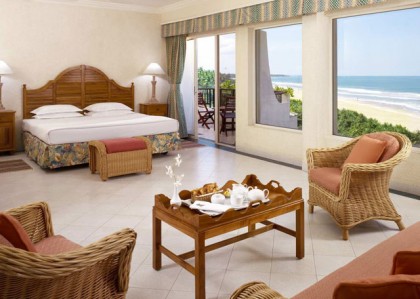 In-room facilities at Viventa by Taj-Bentota
In-room facilities include mini-bar, phone, satellite TV, electronic safe, tea / coffee facilities and 24-hour room service.
In house facilities at Viventa by Taj-Bentota: dining
Palm's Coffee Shop: Sri Lankan and international buffets, Oriental Pavillion specializing in Chinese cuisine
Sea View Restaurant: fresh seafood dishes and continental cuisine
Sea Lounge Bar: by afternoon; high tea and by night: drinks and cocktails,
Aquarius pool bar: fresh juices and snacks
In house facilities at Viventa by Taj-Bentota: leisure and recreation
Large swimming pool with children's pool
Beach volleyball, badminton court
Billiards, table tennis and other indoor games
Beauty Salon, Gift Shop, Library
Night club, regular evening entertainment
In house facilities at Viventa by Taj-Bentota
Conferences, ceremonies and weddings
Weddings: the hotel is also well organized to hold weddings and will plan your entire wedding day from a traditional Sri Lankan ceremony to the reception
In house facilities at Viventa by Taj-Bentota: Fitness center
Sauna, Jacuzzi and gymnasium
Fitness center, which is open 24 hours has an instructor from 7 in the morning to 8 in the evening. The center is fully equipped with cardio machines, multi gym machine, treadmills, cross trainer, exercise cycles, free weights, and exercise ball.
In house facilities at Viventa by Taj-Bentota
Babysitting, with 24 hours prior notification, Doctor-on-call
Currency exchange, Postal & Parcel Services, Airport transfers
Car rentals, Restaurant bookings, Local errands – shopping/medicines/telecommunication etc.
Banquet and Meeting Room facilities at Viventa by Taj-Bentota
Indoor: Orchid and Boardroom
Space: 6500 square feet of conference space
Capacity: Theatre style – 275 guests; Classroom style – 160 guests; U-shape – 70 guests; Boardroom – 24 Guests; Cocktails – 350 guests standing
Audio Video facilities: includes wall mounted, high-powered cube speakers and sub woofers powered by independent amplifiers mounted on moveable racks. Microphones, mood lighting and manually controlled remote controlled, pull-down screens and floor-concealed, audio/visual switch boxes,(Has to be hired out at a extra cost) all ensure that Vivanta by Taj – Bentota provides hosts with the latest and greatest technology that they can operate via a control panel for perfect adjustments during the event.
Boardroom is another indoor meeting center that suits for small meetings
Capacity: theatre style – 35 guests; classroom style – 18 guests; U-shape – 20 guests; cocktails – 30 guests standing
Outdoor: banquet lawn & Sea View Terrace
Banquet lawn is an open air venue well suited for for cocktails, dinners, launch parties and social celebrations.
Sea View Terrace, smaller than banquet lawn is Ideal for cocktails, dinners, launch parties and social celebrations.
Capacity: Cocktails – 250-300 guests
Excursions off Viventa by Taj-Bentota
Brief Gardens designed and developed by the landscape artist Bevis Bawa is a 200-acre landscaped garden that combine elaborate European layout with tropical wilderness.
Galpata Buddhist temple, as the protected lithic inscription therein reveals, was built by King Parakramabahu the Great who reigned in Sri Lanka Holidays Polonnaruwa in the 13th century.
Kosgoda tea turtle Project to learn of conservation of marine turtle and to release a freshly hatched three-day old turtle into the ocean.