Saturday, May 4th, 2013
98 Acre Resort and Spa Location
98 Acre Resort is located in the paradise like village of Ella that forms the easternmost point of Sri Lanka Holidays Health Triangle, which also encompasses market garden town of Bandarawela, military canton township of Diyatalawa and Nuwara Eliya, the capital city of Ceylon Tea. All of these were sanatorium hill stations to ailing soldiers, motor road & railroad builders and irrigation engineers etc of British Ceylon.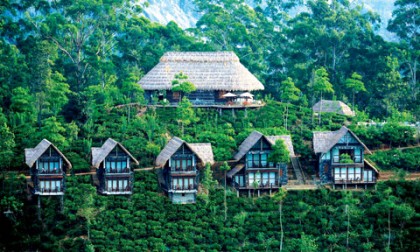 The undisputed highlight of the village of Ella is Ella gap: an opening in the mountain range that affords, on a clear day, a telescopic sight through the plains nearly 1000m below and across to the Great Basses lighthouse off southern sea port and Int'l airport city of Hambantota of the Deep South of Sri Lanka.

Reaching 98 Acre Resort and Spa
The village of Ella can be reached by Highland railway line from Colombo-Kandy-Bandarawela-Ella as well by main motor road Colombo-Hatton-Nuwara Eliya-Ella [226km].
The resort owned helipad offers the convenience of landing just 5 minutes away from the resort and transport would be arranged via golf buggies to transfer the guests from the helipad.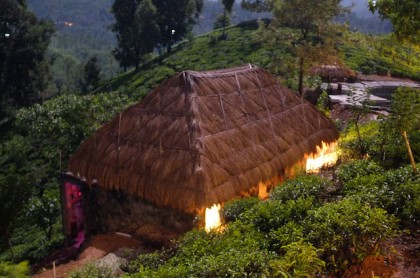 Setting of 98 Acre Resort and Spa
98 Acre Resort' is built on Central Highland's Tea Estate that spans no less than 98 acres. It's hidden highland haven: it is of stunning landscape it is well shaded and sheltered; it is green; it is salubrious climate. Still more the resort is a novel conception that would suits all comers: families on holidays; weary trekkers; eco lovers.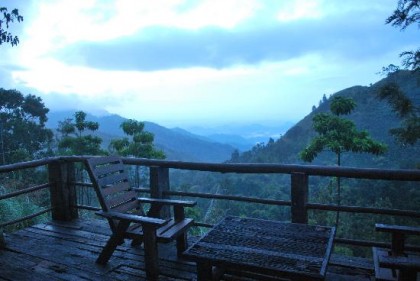 Sri Lanka Holidays Sustainable tourism (Green and eco) credentials of 98 Acre Resort and Spa
The resort is built on an exclusive concept that interweaves pure relaxation with eco friendly tourism. The bulk of materials used in the construction are recycled products.
'Illuk' [a tall grass] straw has been made use of the set up the interior a s well as the roofing resulting in a cosy atmosphere in the salubrious climate, giving the resort an unmistakable rural appearance.
The battery powered golf buggies used in the transportation of guests within the hotel compound are of zero emissions and minimal sound pollution.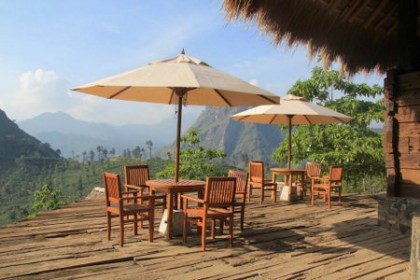 Architecture & Interior deco of 98 Acre Resort and Spa
Discarded railway sleepers have been put to good use in the construction of decks, walls and furniture. The furniture has been made by expert artisans from the locality using local and widely available timber which helps create a warm and rustic atmosphere. Rough hewn granite rock lend a simple, hand crafted elegance to the look and feel of each villa.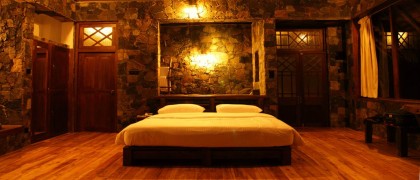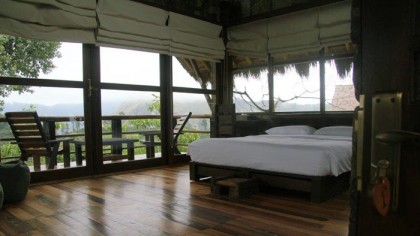 Accommodation at 98 Acre Resort and Spa
Resort has luxury and comfort guaranteed beautifully crafted six chalets with 12 rooms (six deluxe and six standards). There is ample space left in between the chalets making it ideal for quiet honeymooners or even for families.
Each Chalet opens up to scenic views of the misty mountains and is equipped with all modern amenities.
Each of the deluxe rooms has its own private living area and brings in mystique views of the Ella Gap and the Small Adam's Peak.
The Standard rooms are bright and completed with laminated wooden balconies.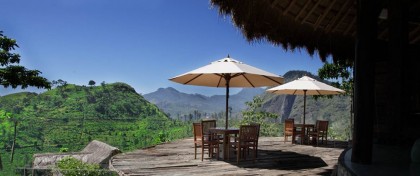 Facilities at 98 Acre Resort and Spa
Dining
The Resort's open air restaurant that accommodates 50 pax serves a wide range of cuisines from authentic Sri Lankan dishes to Western, Continental and Oriental cuisine and ready to take on the choices of the guests.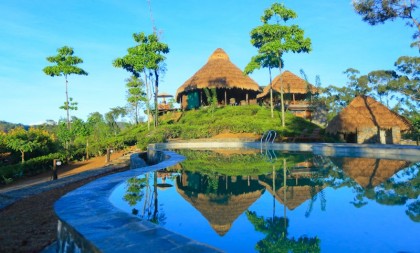 Swimming Pool
The elegantly designed swimming pool affords peaceful dips to all guests while the kids would enjoy in the safety of the baby pool
Leisure and recreation at 98 Acre Resort and Spa
Bird watching
The resort facilitates a detailed bird watching programme or the bird lovers to explore the surroundings guided by the resident naturalist.
Cycling
the resort provide cycles for its guests to trail along the woods within the area and explore the tranquil hillside with ease.
Archery
Excursions off 98 Acre Resort and Spa
Waterfalls Dunhinda, Diyaluma and Ravana
Lipton's seat at Haputale
World's End at Horton's Plains