Sunday, November 6th, 2011
Location of Shangri La Hambantota
Hong Kong-based Shangri-La Hotels and Resorts broke ground for a resort on 145 acres on the southern coast of Sri Lanka on 25 February 2012. Shangri-La's Hambantota Resort and Spa, Sri Lanka will complement Shangri-La Hotel, Colombo, which is currently under construction in the capital. The resort is due to open in 2014 and the two properties mark the entry of the hotel group into Sri Lanka, often referred to as "The Pearl of the Indian Ocean.' The southern coast of Sri Lanka is renowned for its natural beauty and is rich in cultural heritage.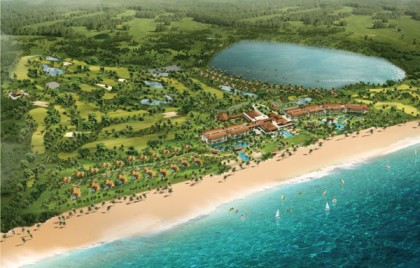 Shangri-La Hambantota setting
Shangri-La's Hambantota Resort and Spa, Sri Lanka will be surrounded by an 18-hole golf course, coconut plantations and sand dunes to the south. Built along the shoreline, the resort will offer 375 rooms including 26 suites ranging in size from 48 square metres to 240 square metres. All rooms will offer balconies of the ocean breezes.
Reaching Shangri-La Hambantota
Sri Lanka Holidays Sustainable tourism (Green i.e., eco) credentials of Shagri-La Hambantota
To complement the local biodiversity, Shangri-La's Hambantota Resort and Spa will implement Sanctuary, Shangri-La's Care for Nature Project. The resort is currently consulting with local environmental organizations to determine a conservation programme for identified endangered species. An Eco Centre will be built on site, to teach and educate guests, colleagues and local schoolchildren about environmental awareness. In keeping with its natural setting the resort's hot water will be produced using solar energy.
Architecture and Interior Décor of of Shagri-La Hambantota
Shangri-La Hambantota in-house facilities
CHI, The Spa at Shangri-La will feature ten treatment rooms, a beauty salon and health club. A dive center, a kids' club, a 30-metre lap pool plus additional freeform pool, a tennis court and retail facilities will offer recreational opportunities for business travellers and families alike.
Shangri-La Hambantota is equipped with Multi-purpose function space at over 2,525 square meters and various pavilions offer versatile options for conferences, meetings, weddings and celebrations.
Dining at Shangri-La Hambantota
Food and beverage outlets will include a lobby lounge, an all day dining restaurant, Asian specialty and North Indian restaurants as well as two pool bars and Golf clubhouse lounge.
Excursions off Shagri-La HambantotaArchitecture and Interior Décor of Coral Rock by Amaya
The resort grounds are a natural extension to the region's wildlife habitat. Yala and Bundala National Parks, Sri Lanka's foremost bird watching destinations, and over 40 heritage sites are within easy reach.
Together with Shangri-La Hotel, Colombo the hotels will fit strategically into the group's ongoing expansion plans to link the Indian subcontinent and the South East Asia developments. "We are delighted to enter the Pearl of the Indian Ocean with not just one but two very special projects," said Greg Dogan, president and chief executive officer of Shangri-La International Hotel Management Ltd. "The southern coast of Sri Lanka is an area of unsurpassed natural beauty, rich in cultural heritage, and above all it is well recognised for its warm and hospitable population. With the new shipping port and the second international airport close by, Shangri-La's Hambantota Resort & Spa, Sri Lanka will be perfectly positioned for leisure and business travellers."
The Sri Lankan properties will be fully integrated into the local community from the very beginning, offering employment opportunities and infrastructural support. In addition, both hotels will adopt Embrace, Shangri-La's Care for People Project and work with local children's organizations on health and/or education programmes over a long-term period in need areas such as school materials, infrastructure improvement, hygiene and nutrition. The hotel is in the process of identifying eligible schools. In Hambantota, these schools will be within the villages that surround the temple and the immediate livelihood centres of fishing ports and farmlands, to ensure that the project will work closely with the parents and families of the students.
At the same time, Shangri-La recognizes the unique opportunity presented to hone a new generation of tourism talent in Sri Lanka. Both properties are committed to employing the majority of its workforce locally and they will commence a "Hospitality Traineeship Programme". Young adults participating in the 15 to 18 months programme will start with basic skill courses in the front office, food and beverage service, kitchen, landscaping and gardens. Successful candidates will then continue to be placed in selected Shangri-La hotels globally until the properties in Sri Lanka are ready for pre-opening work.
Hong Kong-based Shangri-La Hotels and Resorts, one of the world's premier hotel companies, currently owns and/or manages 78 hotels under the Shangri-La, Kerry and Traders brands, with a room inventory of over 32,000. Over four decades the group has established its brand hallmark of 'hospitality from the heart'. The group has a substantial development pipeline with upcoming projects in mainland China, India, Malaysia, Mongolia, Philippines, Qatar, Sri Lanka, Turkey and United Kingdom. For more information and reservations, please contact a travel professional or access the website at shangri-la.com.
Above article is based on the press release dated 27th February 2012 by shangri-la.com.