Saturday, February 7th, 2009
Bentota Beach Hotel, Bentota, Sri Lanka
Bentota Beach Hotel of Sri Lanka Holidays is a pioneer beach resort hotel located in the prime land of Bentota in the south western coastal belt of Sri Lanka: it is a pioneer venture (year 1970) in view of being one of first five international class hotels set up within 100 acres of Bentota National Holiday Resort (NHR) developed by Ceylon Sri Lanka Tourist Board; it is a prime land in view of its location that presents panoramas of ocean, beach and lagoon.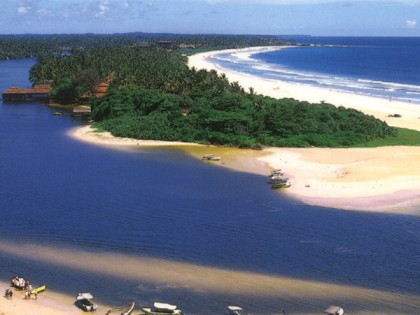 On to the west of Bentota Beach Hotel are turquoise waves of Indian Ocean breaking surf on to pristine sandy beach; onto the east are Bentota Delta, Lagoon and River. Over and above all that unrivaled advantages are Geoffrey Bawa's (1919-2003) outstanding concepts of "with the nature" eco-oriented architecture. Furthermore sprawling gardens of 11 acres assures all the sunny tourists a coconut palm sheltered patch of beach or a shady pocket of land to make it their own place in the sun, even when the hotel is fully occupied during the main tourist season of October to April.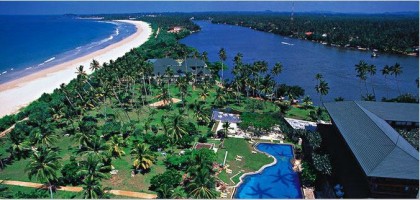 Sustainable tourism (i.e., Green, eco) credentials of Bentota Beach Hotel: to be edited.
Location of Bentota Beach Hotel
Located 62 km south of Colombo & 100 km south of Bandaranaike International Airport (CMB), Katunayake the hotel occupies the prime land at Bentota Bay Beach.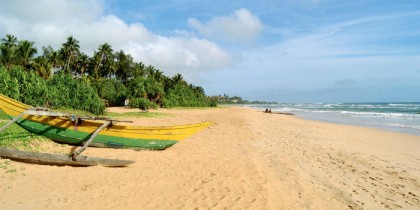 Setting of Bentota Beach Hotel
Bentota Beach Hotel sits pretty in sliver of land of 30 acres of coconut plantation, next to Bentota estuary, facing turquoise waters of Indian Ocean on the western flank & the tranquil waters of mangrove lined long lagoon of Bentota formed at the mouth of the scenic River Bentara Ganga on the eastern flank. That is to say we have an expansive golden sandy beach in the west & a long and broad lagoon used for water sports in the east as if the fine beach of Bentota wouldn't do.The beach resort with an abundance of fauna and flora add enchantment to the landscaped gardens of Bentota Beach Hotel.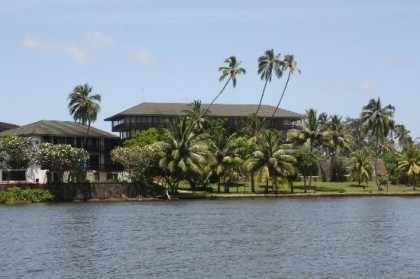 Architecture and Interior deco of Bentota Beach Hotel
With its design inspired by the 17th century Dutch Fort architecture, Bentota Beach Hotel, set in 11 acres of lush landscaped gardens, is one of the early masterful projects of renowned architect Geoffrey Bawa.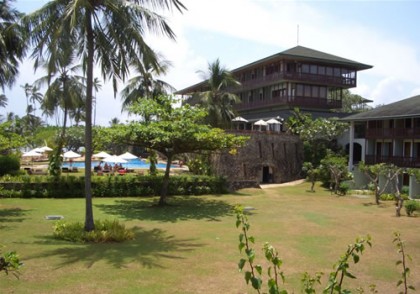 Accommodation at Bentota Beach Hotel
Arranged over 3 floors, Bentota Beach Hotel has 133 rooms with private balcony or terrace facing the sea or lagoon that offer spectacular views. Spacious air conditioned rooms contain mini bar, satellite TV & IDD telephone.
Standard and Deluxe Rooms: the rooms in the south wing have sea views and those in the north wing have beautiful views of the Bentota River. In-room facilities include a/c, overhead fans, satellite TV, IDD telephone, tea/coffee facility, mini-bar and safety deposit box. The Deluxe rooms also have wifi facility and pillow menu.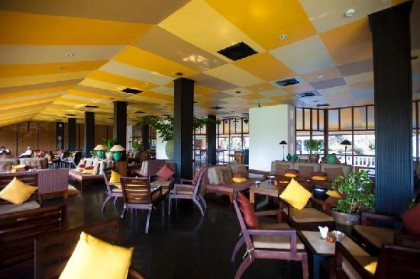 Suites: the three suites are spacious and consist of a separate bedroom and living area and two balconies. In addition to the standard facilities, the suites have a bar counter, DVD player, wifi facility and pillow menu.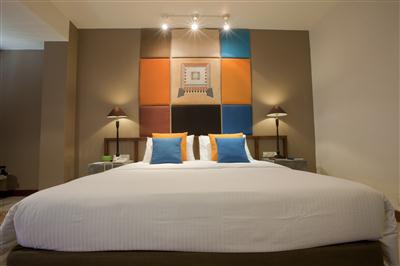 Services at Bentota Beach Hotel
Room service, doctor on call, babysitting services, 24 hour reception, foreign exchange desk, left luggage service, airport transfers.
Bentota Beach Hotel also offers conference facilities with seating a seating capacity of 100 guests in theatre style.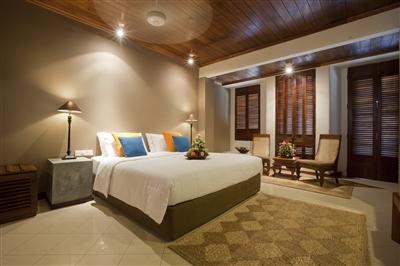 Facilities at Bentota Beach Hotel
Recreational facilities include 3 swimming pools & large playing area which leads down to the lagoon. The sports complex offer a wide range of games: water-sports on the lagoon such as banana-boating, water-skiing, jet-skiing, diving (PADI), windsurfing and wave boarding & volley-ball, basket-ball, climbing frames, gymnasium, water-polo, badminton and elephant rides.
Also available are indoor games such as table tennis, pool and snooker.
Facilities at Bentota Beach Hotel: leisure and recreation
At Bentota beach Hotel, the guests will always have some leisure and recreational activities to enjoy:
The sprawling gardens which leads down to the lagoon to the rear of the hotel affords all guests to enjoy in archery, climbing frames, bird watching, volley-ball, basket-ball, badminton, tennis and elephant ride.
Club Inter Sport, the specialized sports center Bentota Beach Hotel offers an array of motorised water-sports in the Bentota lagoon: banana-boating, water-skiing, jet-skiing, diving, windsurfing and wave boarding
Indoor games: table-tennis, pool and snooker
In the evenings: open-air discotheque, sing along at karaoke bar or feature film shown on a giant screen.
In the arcade: hair-dressing salon; shops selling jewelry, collectibles, souvenirs, gifts, books, ornaments and saris
Sports center, gymnasium
The swimming pool is built into the natural contours of a rock
Azmaara Spa at Bentota Beach Hotel
Azmaara Spa offers Relaxing and Holistic Massages, Body Scrubs and Wraps, Spa Manicure and Pedicure and Facials.
Excursions off Bentota Beach Hotel
Visit the nearby Lunuganga – a garden retreat located 4km interior from Bentota created by Sri Lanka's iconic architect, Geoffrey Bawa.
Boat ride along River Bentara Ganga at Bentota affords the chance to enjoy the sights of aquatic birds, water monitors, crocodiles amidst the mangroves.
Boat safari along the tranquil River Madu Ganga is fascinating: meandering around the mangroves and gliding past no less than 66 islands rich in birdlife, the tourists enjoy the opportunity to visit villages, local markets, Buddhist temples and craft workshops. The starting point for River Madu Ganga boat safari is at Balapitiya 20km south of Bentota.
Kosgoda's Marine Turtle Hatchery located 11km south of Bentota is a valuable conservation project that protects the endangered Marine Turtles of Sri Lanka.
20km south of Bentota is a 17th century Dutch Fort, UNESCO World Heritage Site of Sri Lanka Holidays VOC Galle Dutch Fort built upon a small peninsula like headland. Within the Fort of sturdy ramparts and bastions are narrow streets lined with Dutch and British colonial era buildings which are still in use, the lighthouse, and a growing collection of art galleries and several boutique hotels.
Bentara Galapata Raja Maha Vihara (Sinhala: Bentara Galapata Royal Buddhist temple) on the bank of Dedduwa lake is a main cultural attraction of Bentota. A lithic inscription therein reveals that the beautiful temple was built in the12th century by King Parakrama Bahu the Great who reigned in Sri Lanka Holidays Polonnaruwa.