Archive for the 'Ahungalla' Category
Thursday, June 16th, 2011
Saturday, May 9th, 2009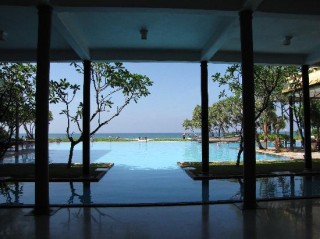 Heritance Ahungalla Hotel, one of the finest among the Sri Lanka hotels, is an outstanding architectural achievement of a luxury beachfront hotel in Sri Lanka by illustrious Geoffrey Bawa, one of the foremost architects of Asia. The driveway to the front of the hotel brings to the view, the grand open-plan lobby designed in a concept of light and space. Natural light that pours into the lobby, reigns over the whole hotel. As much as it is sunny indoors, outdoors are shady: the expansive wooded gardens of the hotel are well shaded from the tropical sun.
Herein is another glorious Geoffrey Bawa Special. Bask in the light and space special effects show. Glorious!
Herein is a stunning telescopic view: the airy and spacious lobby ends at the infinity pool that runs all the way to reach the beach. The effect is astonishing: the bluish expanse of infinity pool blending with the blues of the sea and the blues of the horizon. There's blue and shades of blue, tones of blue, there's space, there's more space, there's light, again light, the expansive blue pool, still more of pool and the sea, the sea, the horizon, then endless horizon- it holds your breath up. Let your breath fall, now. Jesus, you nearly choked. Bunpeiris
Sri Lanka Holidays Sustainable tourism (Green i.e., eco) credentials of the hotel:
To be edited.
Heritance Ahungalle is an architectural landmark; it is also a geographic landmark of the area between prime Sri lanka Holidays beach resort of Bentota & the surf beach of Hikkaduwa. Most of all, Heritance Ahungalla is a landmark of the history of tourism in Sri Lanka: it is the first ever 5 star beach resort of the tropical island of Sri Lanka.
Location: Heritance Ahungalla (5 star) is located 76km from Colombo at the fishing village of Ahungalla between the prime beach resorts of Bentota & Hikkaduwa of South western coast of Sri Lanka.
Setting: Beachfront. Heritance Ahungalla is set on the prime stretch of pristine beach amidst dense coconut groves.
Architecture: Heritance Ahungalla is an early architectural masterpiece of a classic beach hotel by Sri Lanka's illustrious architect Geoffrey Bawa. The entrance to the lobby provides a long vision across the huge expanse of a swimming pool merging to the sea at the far end. Ground floors as well as upper floors are designed with linked pavilions providing views & breeze of the sea. Geoffrey Bawa's hallmark of architecture is manifested herein with the concept of interior too having the virtues of exterior: tropical sun, sea breeze, lush greenery & flowing water. Among the numerous architectural masterpieces of Geoffrey Bawa are Heritance Kandalama at Dambulla & Cinnamon Beach at Bentota, Serandib Hotel at Bentota & Jetwing Lighthouse at Galle.
Accommodation: Heritance Ahungalle comprises of 160 spacious comfortable well furnished & stylish rooms. A host of amenities and an array of services of lavish luxury spoil you to the very fingertip.
Experiencing nature: Elephant safaris, mountain trekking, jeep safaris, cycling & bird watching.
Awards: National Cleaner Production Awards 2008 by National Cleaner Production Centre (NCPC), Sri Lanka. NCPC is a member of United Nations International Development Organization's and United Nations Environment Programme's global network of cleaner production centers.