Sunday, September 23rd, 2012
Location of Mosvold Villa
Mosvold Villa by Jetwing is located on the coconut palm fringed tropical beach of Ahangama, a fishing village situated 130km south of Colombo, midway between the loveliest beaches of Koggala (to the north) and Mirissa (to the south) of the south-western coastal belt of Sri Lanka. The stretch of the coast in Ahangama is famous for the stilt fisherman, sitting tight on a wooden wedge fixed onto a wooden pole driven into the sea bed, angling on the beach with all the time in the world, while the waves carrying small fish crash onto the shore. In between Ahangama beach and Mirissa beach (off- shore dolphin and whale watching) are the surfing beach of Midigama and bay beach of Weligama.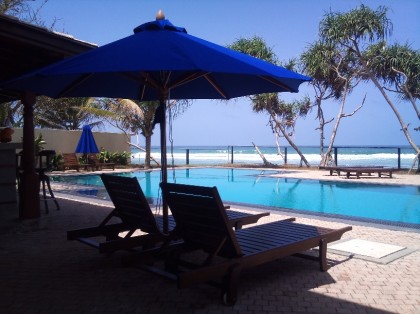 Setting of Mosvold Villa by Jetwing
Mosvold villa is a beachfront boutique hotel. The well maintained hotel garden of grassy lawns is well shaded by Coconut Palm trees and Mangrove trees. Lining the beachfront of the swimming pool is a row of mangrove trees that filter in the tropical sun onto the sundeck.
Sri Lanka Holidays Sustainable tourism (Green i.e. eco) credentials of Mosvold Villa by Jetwing: to be edited.
The type of the hotel: Mosvold Villa is a luxury boutique villa of six rooms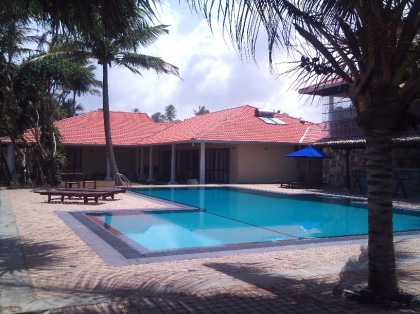 Architecture and décor of Mosvold Villa
Mosvold Villa's architecture is based on  traditional concepts suited to the tropical island of Sri Lanka: space, natural light and air circulation. The courtyards within the building and long verandahs feed in natural light and breeze into the rooms.
White clad rooms are tastefully furnished with traditional furniture polished dark tan: four poster bed, wardrobe, sofa, chairs and desk mad of tropical hardwood.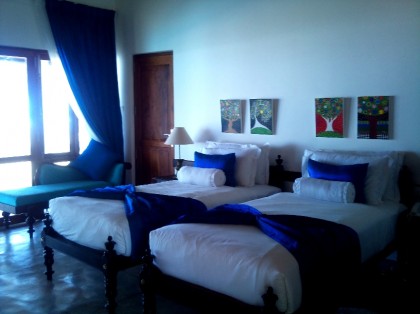 Accomodation at Mosvold Villa by Jetwing
All six luxury rooms of Mosvold Villa are built facing the beach. The 6 air-conditioned rooms are provided with en-suite shower and bath, mini-bar, television, wardrobe & tea-coffee making facilities.
While Wi-Fi internet connection is available free of charge IDD is chargeable.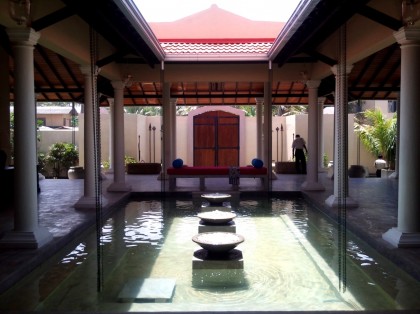 In-house facilities at Mosvold by Jetwing
Swimming pool facing the beach.
Lost and found service (24 hours), Wedding services (on request), Private events (on request)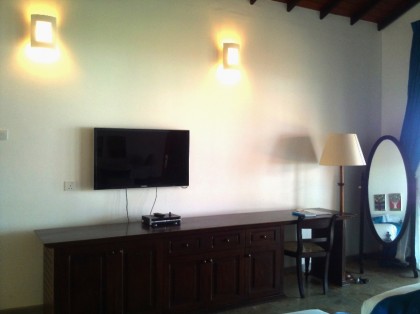 Half Day Excursion off Mosvold by Jetwing
Boat Safari in the Koggala Lake at Sri Lanka Holidays Koggala. Kogglala Lake (6km north of Ahangama) splattered with patches of mangroves rich in birdlife.
Kataluwa Purvarama Mahavihara Buddhist temple 5km beyond Koggala showcases panels of Kandyan-style (a school of mural that emerged and developed in the era when Kandy was the capital city of Sri Lanka (1592-1815) wall paintings in the main shrine of the Buddhist temple.
Rumassla Rock (17km north of Ahangama), a sanctuary of Sri Lanka's birds affords panoramic views of the Unawatuna Bay Beach.
Sri Lanka Holidays VOC Galle Dutch Fort, today, a UNESCO World Heritage Site (20km north of Ahangama) is situated on a small peninsula like headland overlooking the ocean.
Kottawa Forest Reserve (19km northeast of Galle), a 15-hectare Sri Lanka Holidays Arboretum is rich in biodiversity: 170 tree species with 100 of them being endemic to the island. Kottawa Forest Reserve is home to 70 species of birds including 12 endemic birds of Sri Lanka Holidays.