Jetwing Lagoon
Jetwing Lagoon Hotel Location
Jetwing Lagoon Hotel is located in the village of Thalhena of the western coastal town of Negombo at a distance of 17km from CMB Bandaranayake Int'l Airport at Katunayake, Negombo.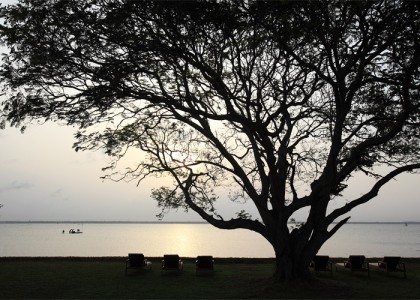 Setting of Jetwing Lagoon Hotel
Jetwing Lagoon Hotel lies on a sliver of a land between the Indian ocean and Sri Lanka Holidays Negombo lagoon, the largest brackish water lagoon in Sri Lanka.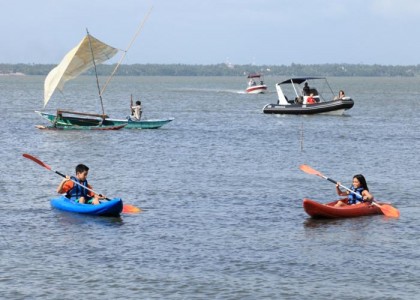 Sri Lanka Holidays Sustainable tourism (Green and Eco) credentials of Jetwing Lagoon Hotel : Hotel owning/managing company claims
At the Jetwing Lagoon, a central chilling system powered by a biomass boiler (using cinnamon saplings) runs the air conditioners.
The hotel uses solar energy to power room lighting, hot water is generated by biomass boilers, and excess and waste water is recycled and used within the property.
A solar-powered mobile water purification and bottling plant now fills bottled water in glass bottles, which are made of 30 percent recycled glass.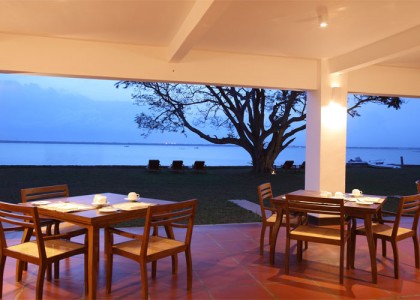 Architecture & Interior deco of Jetwing Lagoon
Designed in the traditional Sinhalese architectural tradition of light, space and air circulation that brings forth a sense of serene opulence & pure relaxation, Jetwing Lagoon Hotel blends well with modern luxuries. Complementing the architectural design and enhancing the ambience is the swimming pool that is double the size of Olympic swimming pool a set right in the midst of the building making the whole property revolving around it.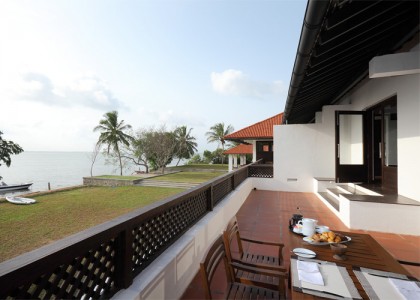 Type of the Hotel and Star rating of Jetwing: 4 star beach hotel
Accommodation at Jetwing Lagoon
Jetwing Lagoon features 14 Deluxe rooms, 22 Bawa rooms, 14 Family rooms 04 Suites and 01 Honeymoon Suite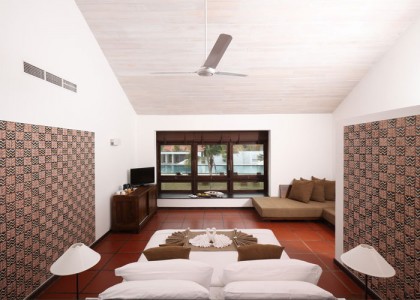 Facilities at Jetwing Lagoon
In room facilities
Spacious bathrooms with a bath tub and hot/cold 'rain' showers
A well stocked mini bar with drinks and snacks, tea/coffee making facility, Ironing facility
LED TV with Cable channels, IDD phones and safe for valuables
Dining at Jetwing Lagoon: restaurants & bars
"Outrigger", the main restaurant of relaxed atmosphere
"Geoffrey's" , the fine dining restaurant set up facing the lagoon serves offers specialty cuisine.
"Blue Lagoon" also facing the lagoon serves a lavish menu.
"Palms" the well-stocked poolside bar that brings in views of Negombo lagoon.
"Kalapuwa", the main bar serves the finest beverages, cocktails and spirits.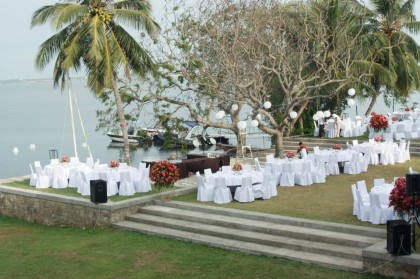 General Facilities at Jetwing Lagoon
Foreign exchange encashment, acceptance of all major Credit cards
24 hour Room Service, Daily Housekeeping, Daily Newspaper
IDD facilities, Facsimile, E-mail and Internet services with complimentary Wi-Fi
Doctor on call Baby sitting at a charge, baby cots on request
Car rental, parking facilities, Laundry/dry cleaning
Gift shops, Postal facilities, Left luggage facility
A well stocked wine cellar for choice of wines
Meeting room with all modern conference facilities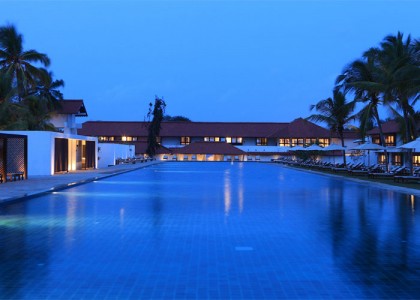 Leisure and recreation at Jetwing Lagoon
Swimming pool, Gymnasium
Water Sports: fishing Leisure boat rides Canoeing Wind surfing Sailing Water skiing
Nature excursions
Excursions off Jetwing Lagoon
Visiting Portuguese period Catholic Churches, ruins of the Dutch Fort and cemetery.
Boat ride on Sri Lanka Holidays bird sanctuary at Muthurajawela marshes [23km south of Jetwing Lagoon Hotel], home to numerous species of birds and fish, dragon flies and monitor lizards.