Tuesday, March 10th, 2009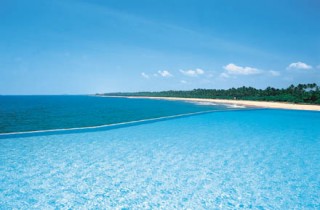 Saman Villas, Bentota, Sri Lanka
Sustainable tourism (Green i.e., eco) credentials of the hotel
To be edited
Location
Saman Villa is located on the south west coast, 65 km south of Colombo and 92 km from CMB Bandaranaike International Airport.
Setting
Saman Villas is perched on the summit of a headland rocky outcrop at the very border of the pristine beach of the south western coastal belt of Sri Lanka at the sleepy fishing village of Aturuwella in the prime beach resort of Sri Lanka, Bentota bay Beach.
The rocky outcrop bisects the golden sandy beach into two long seemingly endless, surf swept pristine stretches with dense coconut plantations right behind it.
The setting is not only of lofty, panoramic views but also one of tranquility, disturbed only by the sounds of birds and the waves breaking on the rocks below. No matter, your angle of view, the magnificence of the long stretch of twin beaches & coconut plantations never seize, at once to thrill & soothe the heart. This is a magnificent location.
Accommodation
26 extravagantly furnished suites plus one two-storey villa. These are built in the form of separate villas on either side of the rocky headland for maximum privacy. Designed in the best of traditional Sri Lankan style, the accommodation offers every comfort
Each suite is carefully positioned to provide spectacular views of the shoreline and sea. They include a terrace or balcony with a day bed and dining table, lounge area, sleeping deck.
Facilities
The inviting infinity-edge swimming pool with sea blue water appears to merge with the vast Indian Ocean and beyond. The cascading gardens with beautifully manicured lawns on the rock face offer a variety of locations to appreciate the magnificent view, caressed by cooling sea breeze, in quite relaxation.
Two restaurants overlooking the pool and the sea beyond; the terrace restaurant caters for breakfast and lunch while the main restaurant on the upper level is open exclusively for dinner. The menus at the main restaurant offer a wide selection of Eastern, Western and Sri Lankan dishes with an extensive range of wines to complement your cuisine.
Dining under the stars of a tropical island
The Dining options include; dining by the golden sandy beach, on the pool pavilion overlooking the ocean, on top of a rock where the waves break, in a tropical garden, in a water garden or in the privacy of your own suite.