Monday, May 23rd, 2011
Chaaya Tranz Hikkaduwa
Location of Chaaya Tranz Hikkaduwa
Chaaya Tranz Hikkaduwa (formerly Coral Gardens Hikkaduwa) is located at the south western beach resort at the fishing village of Hikkaduwa, 100km south of Colombo, Sri Lanka. Here is a pristine bay beach; here is shallow sea; here is a coral sanctuary. Here is a Sri Lanka Holidays beach to swim, surf, snorkel and dive from dawn to dusk. Enjoy your Sri Lanka Holidays at Chaaya Tranz Hikkaduwa.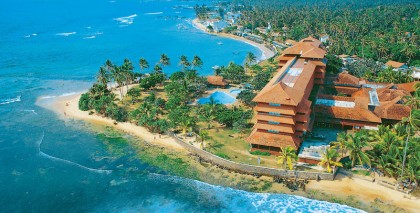 Hikkaduwa is famous for its coral reef with shallow fringing waters of an average depth of four meters: Hikkaduwa is famous for night parties at the clubs. Here is a beach to keep all of you play during the day and dance in the evening- all night. Chaaya Tranz Hikkaduwa welcomes you all.
Hikkaduwa, the infamous western counter culture hippy joint in the seventies, since the 1980s has become a major beach attraction to mainstream foreign tourists as well as to the local tourists. Coral Gardens Hikkaduwa, making quick strides to catch up with the great boom in the industry of tourism in Sri Lanka since May 2009, has upgraded and transformed the property into a John Keels brand of Chaaya and named it Tranz after a genre of music, to raise the mood and tone of all night party revelries at Hikkaduwa to a superior level. Today, Chaaya Tranz Hikkaduwa is a top notch beachfront hotel at Hikkaduwa.
Partying is not that all Hikkaduwa brings in. Hikkaduwa takes you to the places: the cultural attractions of VOC Galle Dutch Fort (UNESCO World Heritage Site); Mask Museum at Ambalangoda; Dodanduwa Polgasduwa Buddhist temple and nature attraction of Rummassala Hill.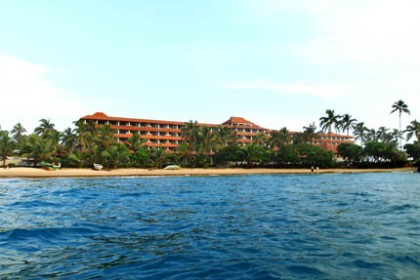 Reaching Chaaya Tranz Hikkaduwa
Hikkaduwa is reached by the most travelled road of Sri Lanka, Galle Road (categorized A2 – "A" grade trunk road) that runs from Colombo to Galle, hugging the south western coastal belt and southern coastal belt of Sri Lanka.
This A grade road connects Colombo and Wellawaya via Hambantota; it passes through Mount Lavinia, Moratuwa, Kalutara, Wadduwa, Beruwala, Bentota, Ambalangoda, Hikkaduwa, Galle, Unawatuna, Koggala of south western coast and Weligama, Matara, Dikwella, Tangalle, Hambantota of Southern coast to turn into the interior of the tropical island of Sri Lanka to run passing Tanamalwila, Kuda Oya and Teluulla to Wellawaya, a major transportation hub at the foot of the hills of Uva province just off the south eastern edge of Central Highlands of Sri Lanka Holidays. Wellawaya provides good connections to the hill resorts of Ella, Haputale and beyond.
Spend your beach holidays in Sri Lanka at Chaaya Tranz Hikkaduwa; and travel along the coastal line and make your way into the interior of the island to reach the health resorts of the Central Highlands.
Hikkaduwa can be reached by southern coastal railway line that runs parallel to the Galle road, most often, than not, within the very close vicinity.
Chaaya Tranz Hikkaduwa Accommodation
Chaaya Tranz Hikkaduwa features140 superior rooms, 4 deluxe rooms, 2 family suites and 4 corner suites. All rooms are air-conditioned and well furnished with comfortable rattan furniture cushioned with soft linen in a mosaic of colors.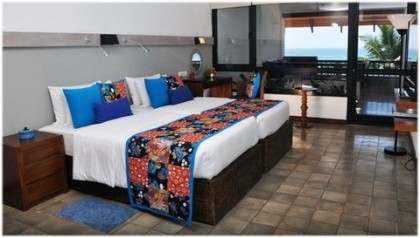 Location of Chaaya Tranz Hikkaduwa in room facilities
Each room has its own private balcony that brings in grand views of the beach. All rooms are equipped with a DVD player, 32" LCD TV.
Superior Rooms: WIFI facility; Air conditioning; Cable TV; Mini bar and bottled drinking water; Tea & coffee making facilities;Telephone with IDD; Safety deposit box; Complimentary toiletries; Private balcony; Hair dryer
Deluxe Rooms: features all of above plus Pillow menu
Suites: features in addition to above WIFI facility Bathrobes & bedroom slippers and another balcony.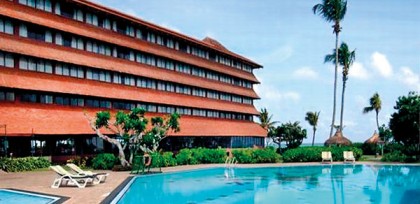 Chaaya Tranz Hikkaduwa in-house facilities
The guest at Chaaya Tranz Hikkaduwa are spoiled with 4 restaurants: the main restaurant, specialty crab restaurant, pool restaurant and coffee shop.
A Lounge and pool bar offers a wide array of local and international spirits
The roof-top spa facility affords a scintillating all around 360° view of the azure ocean and surroundings.
Banquet hall and conference facility.
Moreover the Chaaya Tranz Hikkaduwa houses a fresh water swimming pool, PADI certified dive centre and an excursion counter.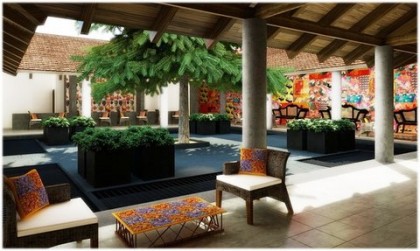 Services at Chaaya Tranz Hikkaduwa
Hotel services include room service, a doctor on call, 24-hour reception, foreign exchange, left luggage services and airport transfers.
Activities at the Hikkaduwa Beach
Hikkaduwa Marine Sanctuary
100 meters from Chaaya Tranz Hikkaduwa is the shallow body of water well enclosed by a reef. Hikkaduwa is the best beach in the western coast to spend in snorkeling: the layers of multi colored corals are home to countless number of colorful coral fish, lobsters, large turtles and microscopic marine creatures.
The novice divers would find the corals located only 4 m below water very pleasant opportunity. Those who find diving too adventures may take a trip on a glass bottomed boat to enjoy the beauty of the coral sanctuary.
Still more, approximately 200 m away from the beach there is a collection of tiny islets that are surrounded by beautiful coral formations.
Ship wrecks off Hikkaduwa
Scuba Diving enthusiasts at Chaaya Tranz Hikkaduwa find the different shipwrecks make an irresistible opportunity to engage in marine exploration. The Earl of Shaftesbury is one the ships that suffered the misfortune of sinking at Hikkaduwa.
Diving, Snorkeling and Surfing at Hikkaduwa
To the Scuba Divers, the most gratifying sites are the rock formations, particularly the deep Kirala Gala and the coral reef which is home to many coral fish including groupers, barracuda and batfish.
The surfers flock together at the beach stretches of Wewala, Narigama and Thirangama during the period of November to April. Surfing at these beaches, the beginners would find the waves gentle enough while the advanced surfers would find the surf challenging enough since the waves break on the reef rather than on the beach.