Monday, March 29th, 2010
Pantiya Estate holiday bungalow, Sri Lanka Holidays
Location: Pantiya Estate holiday bungalow is located at Mathugama, a couple of kilometers away from Kalutara Beach resort town of western coastal belt of  Sri Lanka.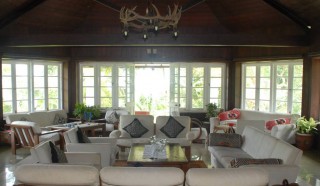 The setting: The villa nestles in the hills of Pantiya rubber estates. The serene environment provides an opportunity for the free yourself off the day to day worries. Further up are tea and coconut estates ideal for your walks and strolls.
Ambience: The colonial building built in 1907 brings in the old world charm, the class of those bygone days.
Accommodation:The villa set in extensive gardens consists of 2 air-conditioned rooms that can accommodate 6 guests. Two attached bathrooms consist of showers as well as bath tubs. Three separate double rooms facing the swimming pool share a veranda.
The Living Room:The spacious living room is furnished with a number of couches, a satellite TV and a DVD Player and a stereo set up
The Dining Room:Right next to the living room, is large dining room with a  table for 12. Meals are served here in either seated or buffet style.