Sunday, January 30th, 2011
Jetwing Vil Uyana, Sigiriya, Sri Lanka
Jetwing Vil Uyana's Sustainable tourism (Green i.e., eco) credentials: Jetwing Youth Development Project (JYDP) 2006 This project won the PATA Grand Award 2007 for Training and Education Link to the hotel web site still to be provided.
Riolta Remarks by bunpeiris: The stupendous eco-oriented achievement of a hotel spread over 24 acres, consists of a wetland system of paddy fields, marshes & waterways reintroduced by a developer with tremendous pioneering spirit, imagination & daring. It is almost a shot at nature man made. Jetwing Vil Uyana experience encapsulates the consummate combination of the irrigation heritage & natural wonders of the island nation. The poperty in the extensive dry zone flat lands of the tropical island of Sri Lanka is immediately to the west of UNESCO World Heritage Site Lion Rock Citadel Sigiriya. "Jetwing Vil Uyana" meaning "garden of ponds" in Sinhalese is envisaged as a natural extension of ancient Sinhalese Irrigation by ancient Sinhalese kings who developed the ancient island of Sri Lanka.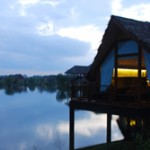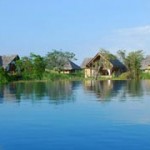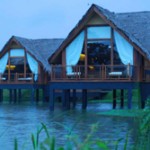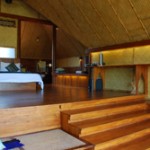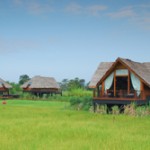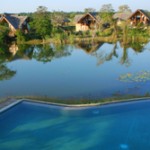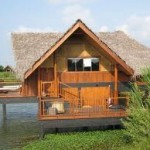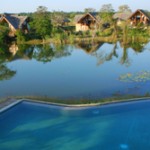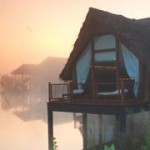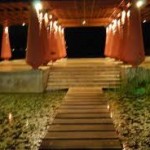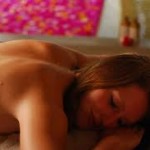 Location : Located 169 km from Colombo & 153 km from Bandaranaike International Airport (CMB), Katunayake, with a view of Lion Rock Citadel Sigiriya, one of the seven UNESCO World heritage Sites of Sri Lanka Holidays.
Setting: Back to the nature to the hilt.
Luxurious Accommodation at Sri Lanka Holidays Jetwing Vil Uyana is in the form of 25 individual dwellings on stilts situated in three distinct habitats – water, paddy field and forest. These huge, luxurious dwellings, connected by wooden walkways, have timber flooring, ceilings of rattan and bamboo, and sloping roofs thatched with coconut palm. Furnished with luxurious king size beds, each dwelling has a private outdoor deck with scenic views and an outdoor dining area. Some have plunge pools on the deck and even private swimming pools. The bathrooms are spacious and elegantly designed with a large sunken bathtub and rain showers. Other facilities include a/c, IDD telephone, mini bar, 29" flat screen TV and satellite channels, coffee/tea making facilities, Bose DVD/CD Home Entertainment system, electronic safe, and even your own sarong, pair of reed slippers and umbrella.
a) Water dwellings: The three water dwellings (each 1,240 sq. ft) are built over a waterway filled with lotuses. Each has a timber decks that juts out over the water providing a picturesque view of the numerous water birds that inhabits the area. A separate dining deck over looking the water provides for dining under the stars.
b) Paddy field dwellings: These six dwellings (each 1,240 sq. ft) are built over paddy fields and have small plunge pools on the deck. The village farmers harvest the paddy fields during the season providing a special insight into paddy cultivation.
c) Marsh dwellings: Six dwellings (each 1,240 sq ft.) are situated over the marsh area. Two have plunge pools on the decks.
d) Forest dwellings: Bordering the wilderness at Jetwing Vil Uyana are the ten luxurious Forestdwellings (each 2,110 sq. ft.). Each of these two story villas has a 22 ft x 10 ft. private swimming pool. The ground floor consists of an open cemented lounge area with plush floor cushions overlooking the swimming pool and the scenic views beyond, an indoor courtyard, and elegant en suite toilet with bath tub and rain water shower. A large spectacular bedroom with an attached toilet with a w/c, and private balcony, occupies the second floor.
Facilities: Jetwing Vil Uyana has several dining options including two restaurant areas: Sulang café, surrounded by water, and Apsara fine dining restaurant with magnificent views of Sri Lanka Holidays Lion Rock Citadel Sigiriya. Other dining options include Spa dining at the Island Spa, Signature dining on the deck within the privacy of your own dwelling, Cellar dining at Vil Uyana's excellently-stocked wine cellar, and outdoor dining at the Kamatha by the paddy fields, where a typical village rice and curry meal is offered on a banana leaf. Sinhalese rice and curries and international cuisine is on offer. A special vegetarian menu is also available. Jetwing Vil Uyana's tranquil library is filled with numerous titles including books on Sri Lanka and had the most relaxing situation, with a lotus-filled pond on one side and a waterway on the other.
The Island Spa & Wellness Center consists of a fully-equipped A/C gym surrounded by water, a yoga pavilion, and a wellness center headed by an Ayurvedic Physician. Aromatherapy and Ayurveda herbal oils are used for the wide array of relaxing during your stay at Sri Lanka Holidays Jetwing Vil Uyana.